Kenya Moore continues to call out Drew Sidora as she takes their reunion beef to Twitter.
During part one of the Real Housewives of Atlanta reunion, Kenya and Drew were at each other's throats over multiple different topics, including their family lives. Earlier in the season, Drew took a dig at Kenya via Twitter by shading her for not living under "one roof" with her estranged husband, Marc Daly, and their two-year-old daughter, Brooklyn. However, Kenya retaliated during the sit-down and told Drew her family isn't under the same roof either because "her baby daddy is under the roof of the jail."
As the episode aired, a fan attempted to call Kenya out for her low blow, but the star claimed the fan actually proved her point.
"Although I think Drew has some issues, I think it would be unwise to go at her about her family not all living under one roof," the fan tweeted. "Especially since [Kenya Moore's] husband doesn't live with her either."
"That was my point," Kenya responded. "She said her family was under one roof trying to take a dig at me and my family."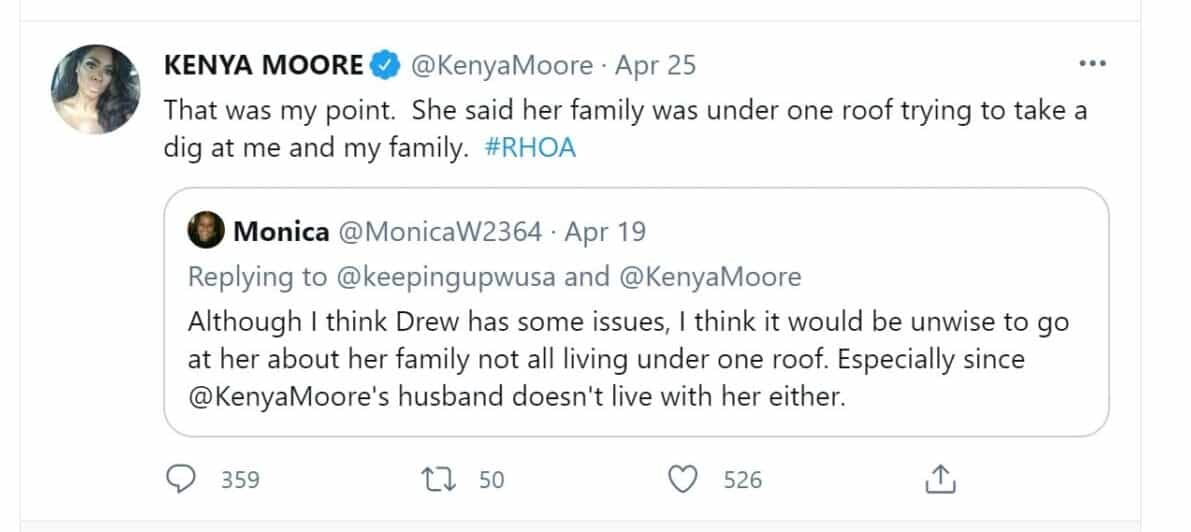 Kenya also apparently doesn't agree with Drew's decision to discuss her nine-year-old son's strained relationship with his biological father on the show. As RHOA fans know, Drew's son, Josiah, was seemingly hesitant to reconnect with his "old daddy," who had just been released from prison at the time, and Kenya "liked" a tweet that called the situation "cringy." As a result, another fan found Kenya's opinion rather hypocritical considering she previously attempted to reconnect with her biological mother on the show.
"Kenya brought a whole camera crew on her mother's doorstep unannounced and she had the nerve to come at Drew for filming the conversation with her son's father. Girlll, be gone," the fan snarked.
But Kenya explained that her situation was very different because she's an actual adult who can choose what to share with the viewers.
"Comprehension is key. The scene was involving a CHILD, not [two] grown adults," she replied to the fan's comment. She added an "I said what I said and meant it" hashtag.
Of course, family life isn't the only thing the former beauty queen and Drew feuded about at the reunion. Host Andy Cohen asked Kenya about the Native American costume she wore to the cast Halloween party, which she has previously apologized for. As Kenya began to explain the blunder, she accused Drew of doing the exact same thing. However, Drew claimed she's actually part of a Native American tribe, and when she dressed up, it was to honor her heritage for a family celebration. But Kenya wasn't buying it and subsequently took to Twitter with photographic evidence.
"Does this look like a 'family celebration'?" she wondered. "Drew is weird and obvious [a] pathological liar. She dressed as an Indian for Halloween. I unfortunately dressed as a Native American for which I apologized. Cultural appropriation is wrong period."
Once Drew got wind of the tweet, she spoke with Page Six and apologized to anyone who may have been offended by the photo.
"Ten years ago, I wore my tribal garment to a party with my sister as a proud member of an indigenous people," the actress explained. "It was never my intent to be insensitive to my ancestral roots, but merely my way of displaying and honoring a culture that runs deep within my DNA."
She added, "In doing so, if I've offended anyone, I apologize. Every day, I'm inspired by stories from my mother and the lessons passed down from one generation to the next. I hope this dialogue leads to a better understanding about cultural appropriation. It's a teachable moment for us all."
Though Drew apologized, it seems Kenya is STILL not buying her co-star's claims or her apology.
"The [Page Six] apology someone wrote for Drew does NOT address the fact that what I said was TRUE," she tweeted on April 28. "Drew DRESSED UP FOR HALLOWEEN as an Indian woman… I said nothing about Native Americans. Still lying."
The caption of the photo showing Drew in her costume does indeed include the #Halloween hashtag.
The second installment of the three-part Real Housewives of Atlanta season 13 reunion airs Sunday night on Bravo at 8/7c.
Photos Credit: Tommy Garcia/Drexina Nelson/Bravo