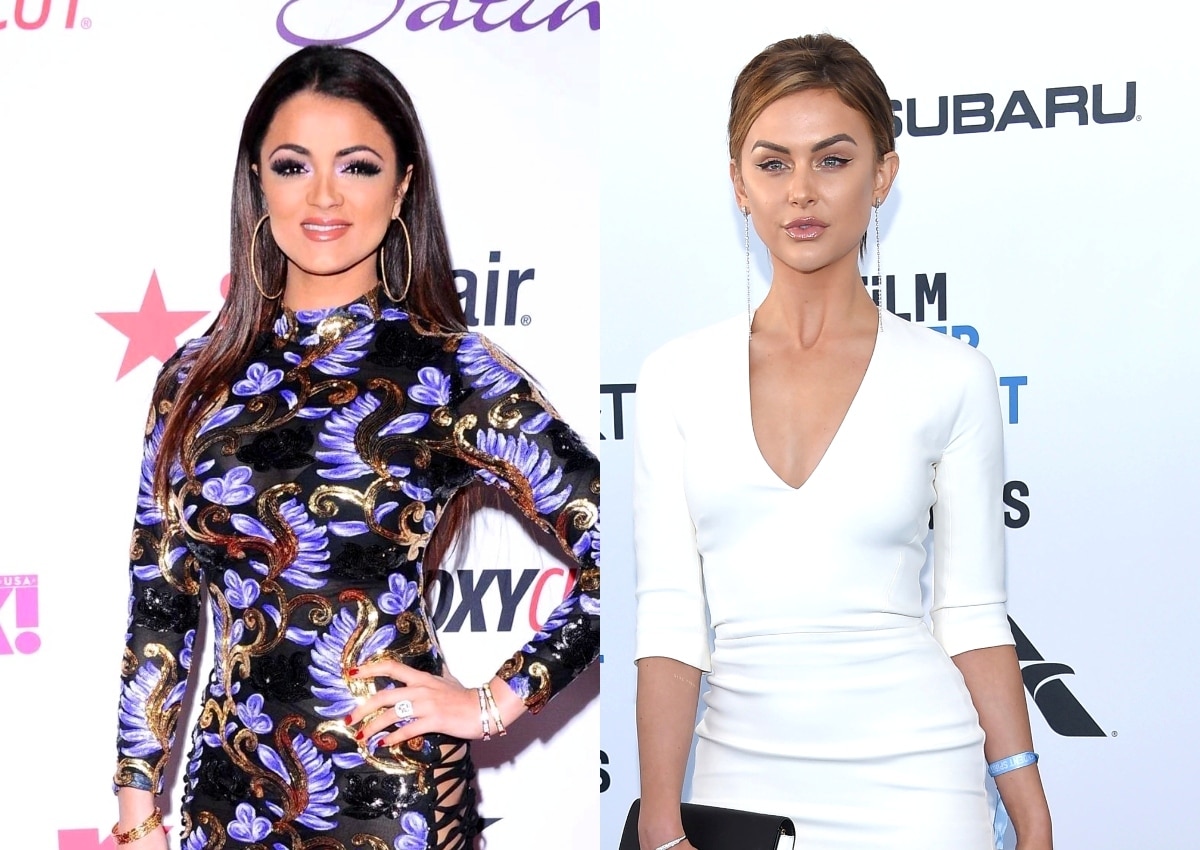 Shahs of Sunset star Golnesa "GG" Gharachedaghi just reacted to the comments Lala Kent made against her on Watch What Happens Live on Twitter.
Following the Vanderpump Rules cast member's appearance on Andy Cohen's late-night talk show, during which Lala explained her decision to unfollow GG after she commented on her split from Randall Emmett, GG went on a lengthy rant against her fellow Bravolebrity.
"After seeing what Lala said about me on [WWHL] I'm now upset," GG began on January 13. "[You] said I'm a single mom as if I'm a victim of a circumstance [and] that I should have empathy for what you're going [through because] we're both single? Do not confuse my original point sweetie. But since [you have, let's go…"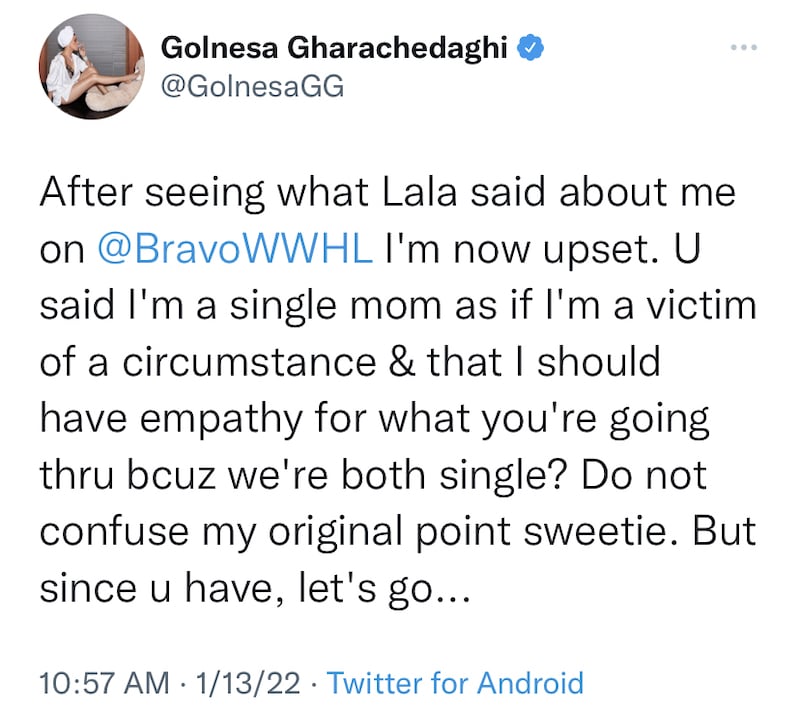 On Tuesday's WWHL, Lala told Andy she unfollowed GG because she didn't "need the negativity" and slammed the Shahs cast member for being "inappropriate."
"She knows nothing about what's going on and how deep and disgusting everything is and I just thought as someone who is a single mom, I would think you would take a pause and have compassion," Lala explained.
According to GG, she believes Lala should pipe down when it comes to her ongoing trash-talking of Randall, who she split from in October 2021 amid allegations of cheating, because their daughter, Ocean Kent Emmett, will one day be exposed to all that she's said.
"Lala, I think you're a sweet woman but my only message to [you] was/is to understand that one day all of [your] anger will disappear but all of the horrible things YOU decided to make public about [your] daughter's father, will always be there!" GG noted.
"Lala," GG continued, "[You] claimed [you] over looked all the red flags but yet [you] have memory of ALL of the flags, meaning the red flags were obviously standing out to [you] for [you] to recall all of them. So [you] actively chose to not see what was in front of [you]. Why not admit to turning a blind eye on purpose?"
GG went on to suggest that Lala was a "cheater" herself due to her hookup with Pump Rules co-star Ariana Madix.
"Your personal business was made public by [you and] that allows [people] to have an opinion. MY opinion is that [you] should have a little more self-respect," GG stated. "If I recall correctly [you] were bragging about going down on your castmate [and] the timeline puts u in a relationship at that time. Cheater?"
In a final tweet on Thursday, GG suggested she had more information to reveal.
"I've got more… [You] want some?" she teased.
Vanderpump Rules season nine airs Tuesdays at 9/8c on Bravo.