Erika Jayne is reportedly claiming ownership of estranged husband Thomas Girardi's defunct law firm, Girardi Keese.
Amid Thomas' bankruptcy cases and the $25 million lawsuit against the Real Housewives of Beverly Hills cast member, attorney Ronald Richards, who was previously working alongside the trustee assigned to the Girardi Keese bankruptcy, has offered an update on the ongoing legal drama Erika is facing.
"[Erika Jayne] is seeking her legal fees from the Estate plus [monetary] damages. She claims zero responsibility for any of the losses including the $25 [million] she was given which is booked as money she owes the firm, yet she claims ownership of [Girardi Keese]," Ronald shared on January 22, noting that she, of course, "can't have it both ways."
The following day, Ronald shared additional information, revealing that Erika recently filed a request, asking for the court to give her a jury trial amid her husband's bankruptcy cases.
"Some further flavor on [Erika] Girardi's Friday night quiet attempt to file a claim in the Girardi Keese bk. The attached below status report shows she is seeking a jury trial and discovery. Tom is getting a non-discharge so there will be no community property left," Ronald wrote.
Then, along with the request document, Ronald revealed Erika has reportedly requested Girardi Keese pay her back the money she's spent on attorneys — and for any other losses she sustains as a result of Thomas' legal drama.
"This is about the Estate paying her legal fees and any losses. Any creditor that attaches his community property attaches hers. The contention she will take the leftovers is a ruse [in my opinion]," he continued. "She wants an up-front cover for her $25 [million] she received plus [attorney] fees."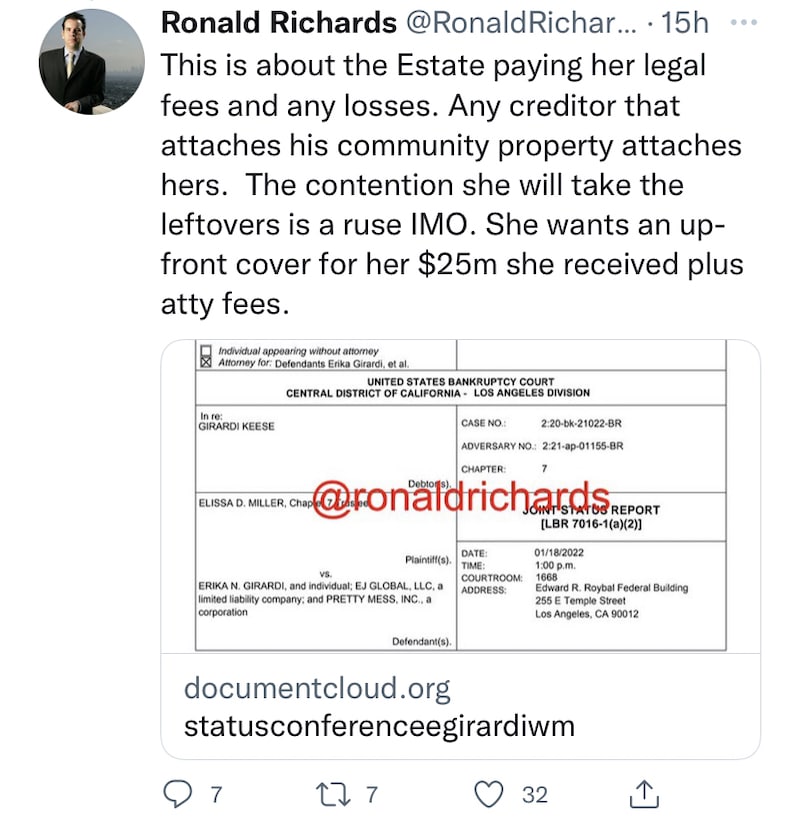 As RHOBH fans well know, Erika has been dragged into a number of lawsuits against her husband, including a $2 million case filed against Thomas, accusing him of using settlement money he won for the widows and orphans of a 2018 plane crash in Indonesia to support his and Erika's over-the-top lifestyle.
Although Erika has proclaimed her innocence throughout the legal hardships, a judge ruled in July 2021 that the family of a burn victim could go after her for the $11 million her husband is accused of stealing from them.
The Real Housewives of Beverly Hills season 12 is expected to premiere on Bravo sometime later this year.