Kanye West is determined to win back his estranged wife, Kim Kardashian, despite her current romance with Pete Davidson, and he's taken the world along for the ride by documenting his efforts on social media.
After leaking a text message sent to him by Pete on Sunday, in which Pete vowed to stay out of the ex-couple's custody drama, Kanye returned to Instagram on Monday, where he leaked a series of text messages from the Keeping Up With the Kardashians alum, who accused him of putting Pete in danger.
"[You] are creating a dangerous and scary environment and someone will hurt Pete and this will all be your fault," Kim warned in the first of two messages.
In the caption, Kanye said, via a fan page on Facebook, "Upon my wife's request please nobody do nothing physical to Skete. I'm going to handle the situation myself."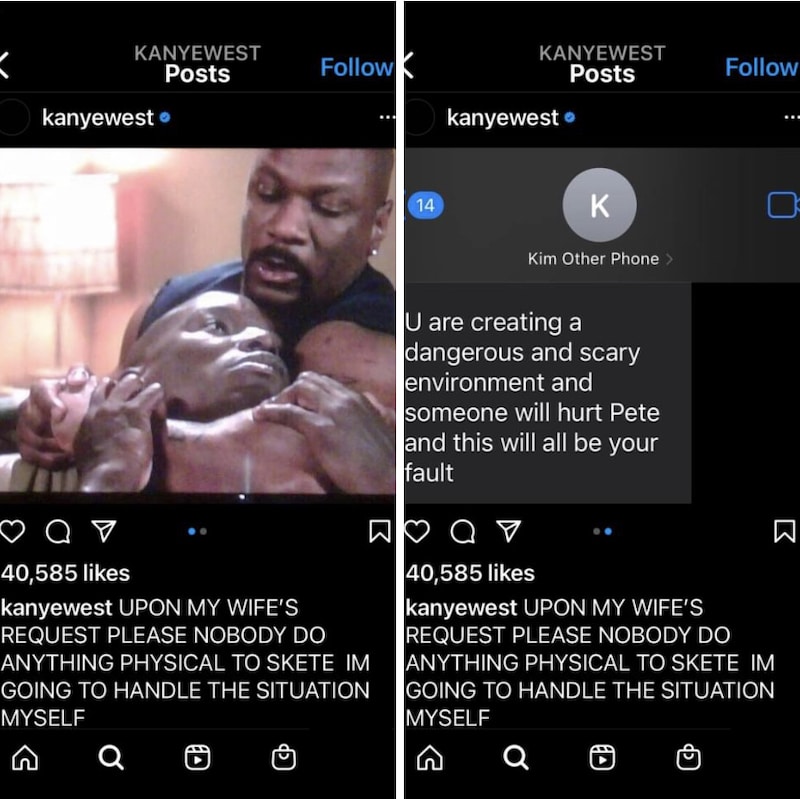 In another set of leaked messages, Kim wrote, "Well thank you… There are dangerous people out there and this is scary and it doesn't have to be."
"I will always do everything to protect you and our family forever… And I listen to you and told everyone to make sure nothing physical happens to Skete," Kanye replied.
After Kanye shared the first two posts, Kim reached out about his publication of her messages, asking, "Why can't you keep any of our conversations private??"
"Cause I got a text from my favorite person in the world… I'm your number one fan… Why wouldn't I tell everyone!!!!" Kanye replied.
Amid his latest drama with Kim, a rep for Julia Fox, who Kanye dated for about two months, confirmed they are no longer an item, telling In Touch Weekly, "Julia and Kanye remain good friends and collaborators but they are no longer together."
While the majority of Kanye's posts regarding Kim and his efforts to reunite his family, which includes their four kids, North, 8, Saint, 6, Chicago, 3 and Psalm, 2, have been deleted, The Shade Room captured one of his since-removed posts on Monday. In it, a pickup truck filled with red roses for Kim was pictured.
"My vision is krystal klear," Kanye wrote in the caption of his photo.
Kim and her family are set to star in a new Hulu series, The Kardashians, later this year.