Lala Kent recently traveled to Nashville for one of her live Give Them Lala shows. And while there, she visited the exact location where her former fiancé, Randall Emmett, was seemingly caught cheating in October 2021.
Months after a shocking photo, reportedly of the film producer and two women, was shared on Instagram, leading to a breakup between him and the Vanderpump Rules cast member, Lala took to her Instagram page amid her Tennessee visit and shared a photo of herself walking on the same street Randall was believed to have walked with his mystery women.
"You rocked my world, Nashville," Lala wrote in the caption of the pic. "I loved staying at [Graduate Hotels]. Three more shows left for the Give Them Lala Live tour! See y'all soon!""
Right away, after seeing the second slide of Lala's post, Pump Rules fans took notice of the location where Lala was walking and applauded her for hilariously mocking her ex, who was seen walking in all black with two women at the same intersection.
"Saw Randall last night with [two] girls [in] Nashville that weren't Lala. He tried to hide when we recognized him," read an eyewitness account shared by the Best of Bravo on Instagram at the time.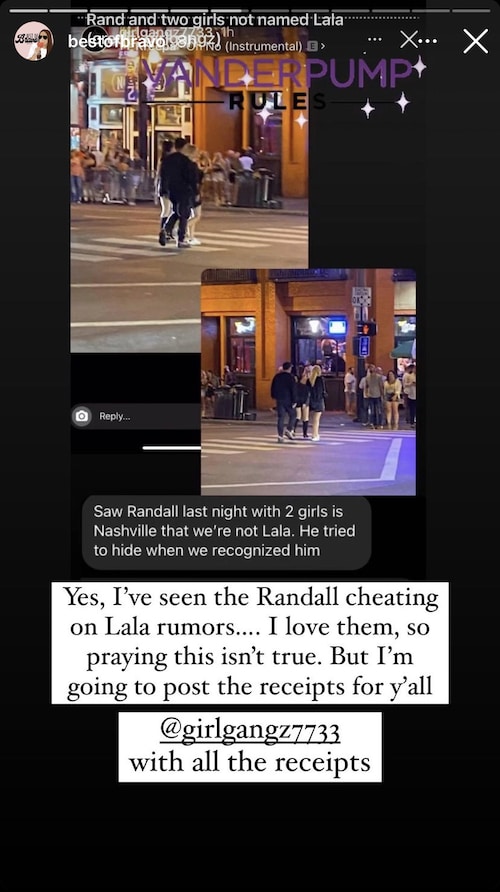 In the comments section of Lala's post, she was met with a number of messages from her online audience.
"THE SECOND PICTURE HAS ME DEADDD AF!!" one person explained, adding the hashtag, "UNBOTHERED."
"I'm dead over pic [number two]," another agreed.
"That second picture tho lmfaooooo," wrote a Pump Rules fan page.
Others deemed Lala's recreation as "savage" and "iconic."
"The second picture I am deceased!!!!!!!"
Following the release of the initial images, Lala moved into a hotel with her and Randall's daughter, Ocean Kent Emmett, who turned one in March, and in the months that followed, she relocated to her own apartment as he remained at the Bel Air residence they once shared.
Although many first came across the images on social media, Lala actually learned about her then-partner's supposed misdeeds from her Pump Rules castmate, Katie Maloney.
"I got wind of it, and I was the one that called [Lala] to let her know," Katie revealed to Page Six. "I just wanted her to know that she was loved and appreciated and that she's amazing no matter what. You just want to prop people up."
"Obviously, it hasn't been easy. But she is so tough. I'm proud of her for being strong for her and for [her daughter] Ocean," she added.