50 Cent is weighing in on The Los Angeles Times' recently-published exposé on Randall Emmett, who is accused not only of baiting women with acting roles in exchange for sex but also of owing a reported $25 million in outstanding loans and other overdue payments.
Years after publicly shaming the producer and director for stiffing him to the tune of $1 million and poking fun at his since-ended relationship with Vanderpump Rules cast member Lala Kent, the rapper shared a couple of posts about the shocking allegations being made against his former business partner.
"Kanan voice: whatever they say he did, he did that sh-t!" 50 Cent wrote in the caption of his initial post.
Hours later, after deleting his first message, 50 Cent returned to Instagram, where he shared a second post about Randall, which included a screenshot of a Page Six article, titled, "Randall Emmett allegedly offered women movie roles in exchange for sex."
"See this is why I made him give me my Money by Monday, then after he had to stay a 100 feet away from me," the rapper explained in his caption, giving a nod to Randall's $1 million payout.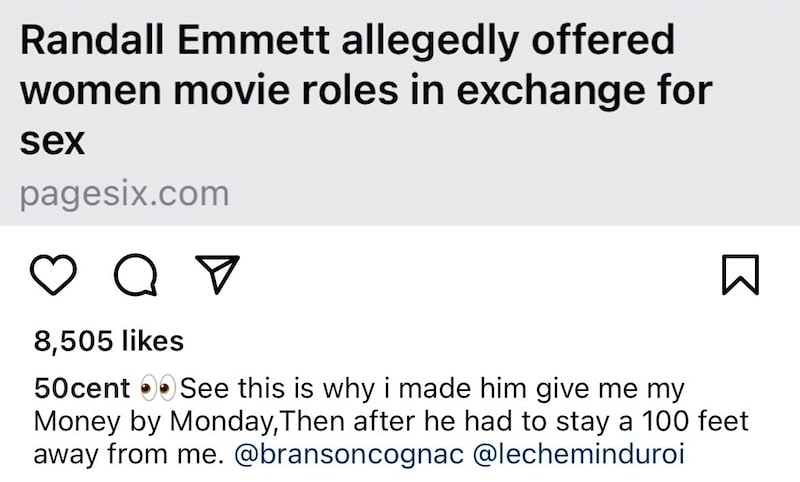 Amid claims of abuse and fraud against Randall in The Los Angeles Times, Lala told the publication that she'd been "tackled" by her former fiancé after confronting him about cheating rumors.
"He ran after me, tackled me and knocked me to the ground," Lala told The Times, revealing that she grabbed her then-partner's phone after he refused to let her see it. "I used every ounce of strength to get him off of me as he was trying to pry it from my hands… That was when I knew, for sure, that there was a lot he was hiding."
While five people corroborated Lala's account to the outlet, Randall is denying her accusations.
"Lala fabricated this account," a spokesperson for Randall told E! News, noting that the former couple's longtime nanny, Isabelle Morales, denied they were "on the ground" during the alleged encounter.
"I witnessed Randall and Lala fighting over his phone," the nanny told The Times. "The only physical interaction I saw was Randall taking back his phone from Lala."
Another spokesperson for Randall said, "These allegations are false and part of a now-familiar smear campaign orchestrated by Randall's ex-fiancée to sway their custody dispute … Lala Kent has lied and manipulated others in her desperate attempt to win full custody of their daughter, keep her name in the press, and remain relevant in reality television."
Meanwhile, an insider close to Lala to the outlet that she "had no part in coordinating an L.A. Times expose that goes back 10-15 years prior to even meeting him" and that "she's a drop in the bucket in this overall story. This piece is about business."