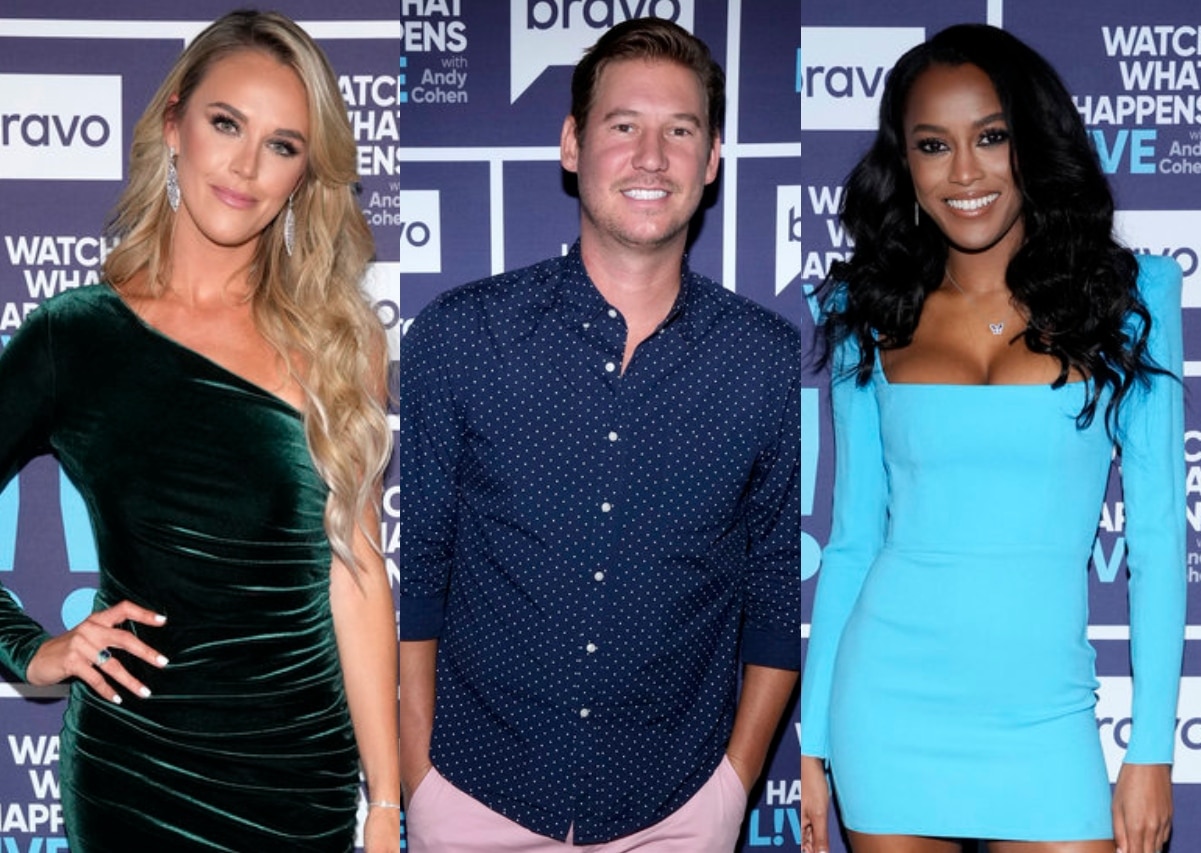 It's official! Olivia Flowers and Austen Kroll are seeing one another exclusively.
After first sparking rumors of a romance earlier this year, amid production on the currently airing season of Southern Charm, Olivia is confirming that the two of them are in a "good place" after "[recovering]" from the drama Ciara Miller, who Austen hooked up with in 2021, brought with her to Charleston months ago, which is expected to play out on the series' August 11 episode.
"We are in a good place. We had an incredible summer together and traveled and we're still good," Olivia confirmed to Us Weekly on August 9. "We're just having fun. We traveled a bunch this summer. We went to really cool places, and you always get to know someone on another level when you travel with them. And we got to kind of relax once the cameras left and the shows stopped. We just kind of really got to know each other and figure out if this was something we wanted and we're definitely in each other's lives."
But when it comes to the future, Olivia said that "despite how it looks on the show" she's in no rush to wed. Instead, she's focused on the present as she and Austen prepare to relive Summer House star Ciara's visit on the show, which came amid Austen's frustrations over Olivia bringing a date to Patricia Altschul's dog wedding.
"[Ciara] was in town and they did end up all going out that night. And of course, I was a little taken aback, but I was more so taken aback that he was upset about my date if he was gonna go and hang out with his ex," Olivia explained. "So that was more where I was coming from with my frustration, but we recovered from it and move[d] forward. And that's what happens when you're in that weird gray area with someone."
In addition to being faced with drama from Ciara, Olivia has also been met with drama from Austen's other ex, Madison LeCroy, who shaded her as both "homeless," for living with her parents, and "homely," after Olivia referred to her as "homegirl."
"I went from homeless to full-on trash in less than a day. I thought that was impressive," Olivia noted, saying that she finds Madison to be "calculated."
"I don't think much of her," she added.
As for the recent split between Shep Rose and Taylor Ann Green, Olivia confirmed it was Taylor who prompted the breakup.
"Taylor initiated it. But they're both taking the space that she suggested," Olivia said, also to Us Weekly. "[She's doing] as good as can be expected. It's one thing to go through the breakup, but it's another to have to publicly deal with it. And I think that was kind of the shock in all of this."
"The news broke before she had really accepted it herself. But she's been good," Olivia continued. "She's gonna be on Watch What Happens Live With Andy Cohen this week. We'll see her and [Naomie Olindo] and she's spent a lot of time with family, and we'll see."
Also during the interview, Olivia reacted to Craig Conover's claims regarding Shep's supposed cheating.
"I don't think anyone really understood what Craig was saying in that moment. I mean, even Austen had a blank face when he said it," she noted. "[Shep's] got a lot of stuff to figure out. It's not a secret that [he] might need to grow up just a little bit when it comes to the party scene. But it wasn't anything out of the ordinary. He needs to take time to figure out what he wants."
"Taylor is a special girl and he knows that. And if he has to take the space in order to do those things, then that's what he is gonna do," she added.
Southern Charm season eight airs on Thursdays at 9/8c on Bravo.