Melissa Gorga is showcasing her new home in a series of videos shared to her Instagram page.
After the Real Housewives of New Jersey star and her family, including husband Joe Gorga, daughter Antonia Gorga, and sons Gino Gorga and Joey Gorga, moved into the massive mansion at the end of last week, Melissa gave her fans and followers a closer look at both the exterior of the house and its two-story foyer.
"The one that I want… Always wanted a chic white brick house. We love what we do… Work hard play hard. Can't wait to show you inside," Melissa teased on November 20, along with a slideshow of photos of her and Joe's latest renovation, which they purchased last June for $950,000.
Melissa also shared a look at her and Joe's detached two-car garage.
Days later, Melissa took her online audience inside her and Joe's new home, sharing yet another video slideshow that featured their two-story foyer.
"Foyer design… It's all about simple elegance this time," she explained on November 23. "The ceiling design is so simple yet so important. [Avenue Lighting] with these glam chandeliers… [Fuda Tile and Marble] with the most gorgeous hi shine marble floors… [Element Flooring] with the wood flooring… Thank you [House of Style] for helping along this journey."
In one image, three elaborate black light fixtures were seen hanging from a tray ceiling.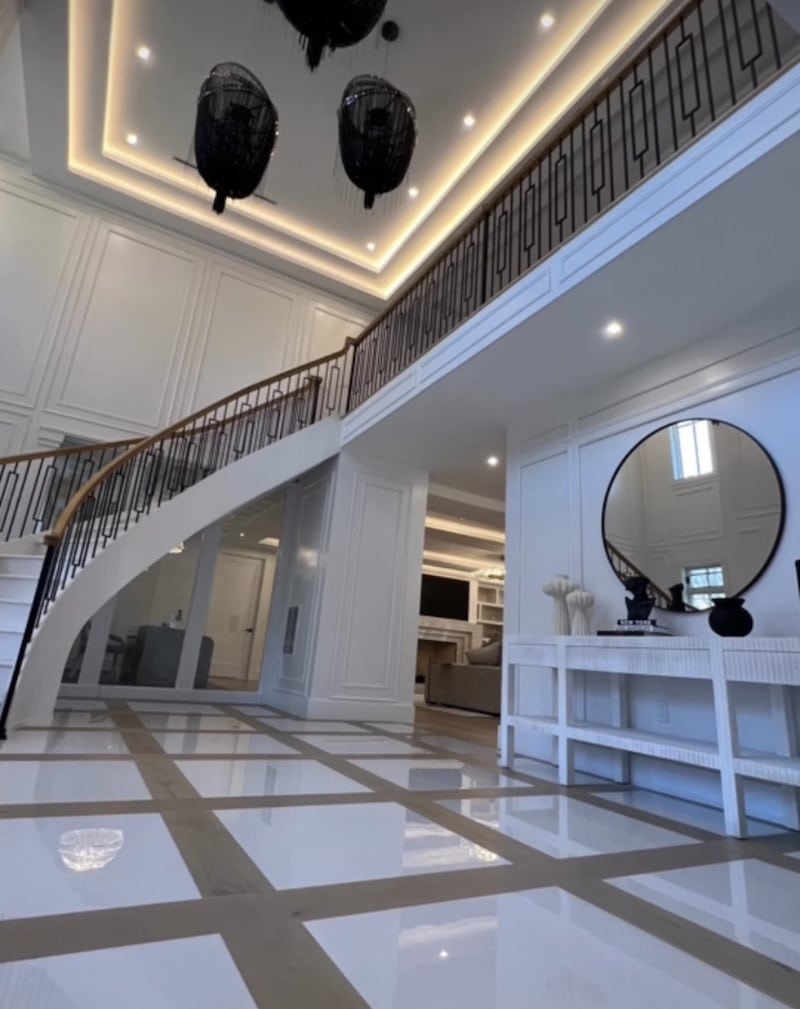 Another image gave fans a closer look at the light fixtures, which feature rings of rhinestones.
For more of Melissa and Joe's foyer, check out the clip below.
Last Friday, as she shared pics of her and Antonia posing with piles of boxes, Melissa spoke of "new beginnings" at her new home.
"New beginnings! It's all happening. It's finally moving day," she wrote. "You know I'm a pro at moving and I never move without [Roadway Moving] literally the same guys are moving me that moved me into my rental! I love how long they've all been working there and how amazing all their employees are!! Wish us luck! Can't wait to show you more of the house!!"
The Real Housewives of New Jersey season 13 is expected to premiere on Bravo sometime in early 2023.