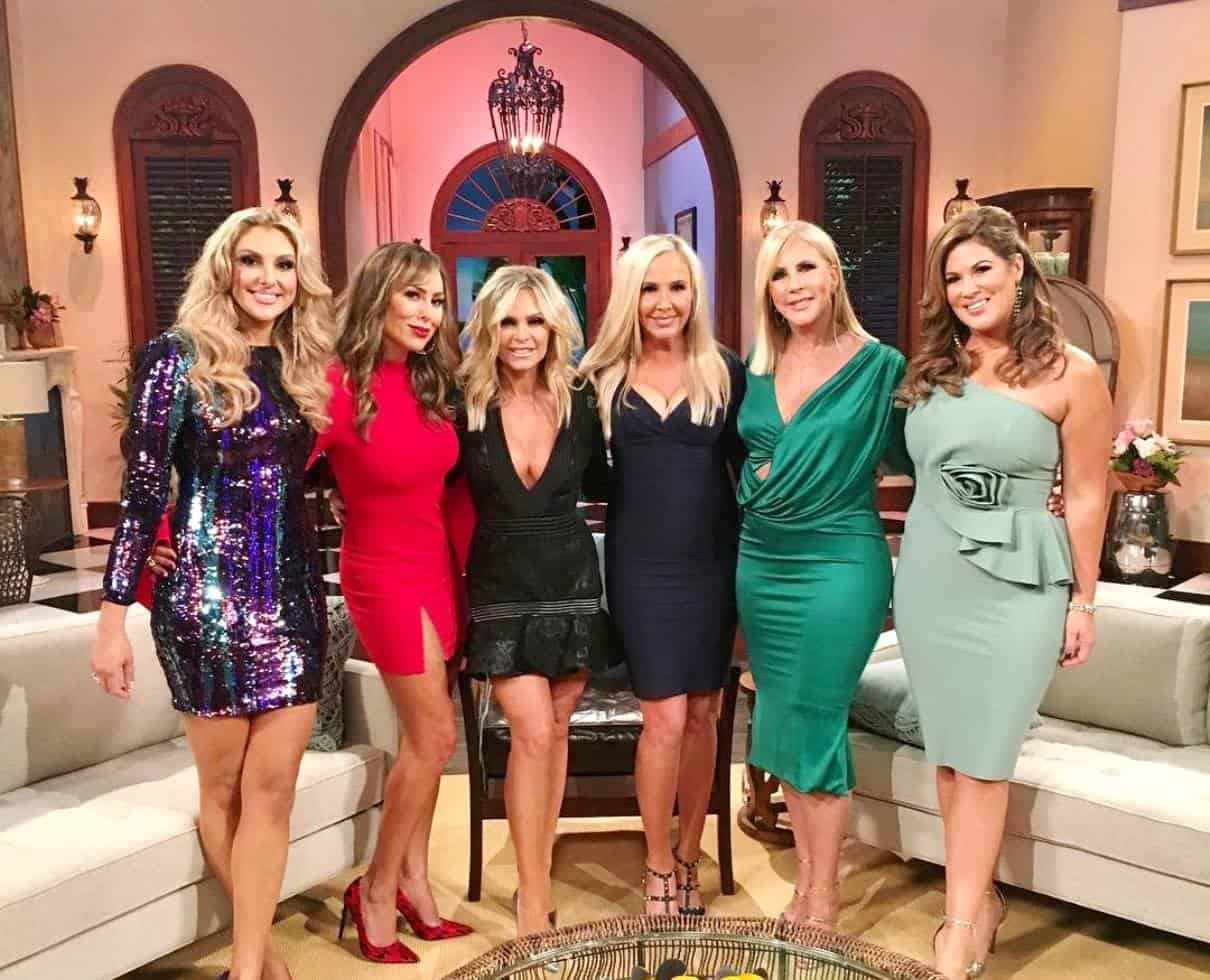 The Real Housewives of Orange County taped their season 13 reunion on Thursday, and now a new report is shedding light on what took place during the dramatic taping.
According to the report, Kelly Dodd and Vicki Gunvalson went head-to-head following the drama that arose earlier this season after Vicki hooked up Kelly's ex-husband, Michael Dodd, with another woman without telling Kelly about it. Even more, Vicki, who went on double dates with Michael and his new girlfriend, has remained unapologetic about her actions.
"Kelly and Vicki got at it during the reunion taping," a source told Radar Online. "Kelly needed closure in the situation and she got what she came for."
If you recall, Kelly revealed in a recent interview that she and Vicki were no longer on speaking terms.
Another feud came in the form of Shannon Beador vs. newbies Gina Kirschenheiter and Emily Simpson. In a recent interview, Gina referred to Shannon as a bully and revealed how Shannon went as far as to stand her up for a dinner they had planned only for Shannon to share photos of herself hanging out with another castmate that same night. Emily also shared a story about being snubbed by Shannon when she saw her out in public.
As for Shannon, she recently accused both Gina and Emily of not being nice to her. And it appears the bad blood between Shannon and the two new cast members "definitely" spilled over into the reunion taping.
"They finally have it out [with Shannon] because Gina and Emily were just sick of it," the source stated.
Finally, the 'tres amigas' also had their own drama brewing as the most recent episode of the RHOC showed Shannon having a breakdown after being criticized by her BFF Tamra Judge and other castmates for being a selfish friend who is overly needy. In turn, Shannon revealed that it was difficult hearing her friends speaking negatively about her on the show.
According to the source, while things did get heated during the taping, Vicki, Tamra, and Shannon were able to resolve their issues and remain friends.
"Shannon was forced to finally face everyone after that disastrous fight that is playing out on the show right now. She is such a different person now and everyone is proud of how far she's come," said the insider.
Additionally, Bravo is also revealing the RHOC season 13 reunion seating chart!
Tamra and Shannon are seated closest to host Andy Cohen on opposite sides, followed by Kelly and Vicki who are both facing each other in the middle. Seated furthest from Andy are newbies Gina and Emily on opposite sides.
Bravo has yet to announce when the RHOC reunion will air this season.
Photo Credit: Instagram, Bravo