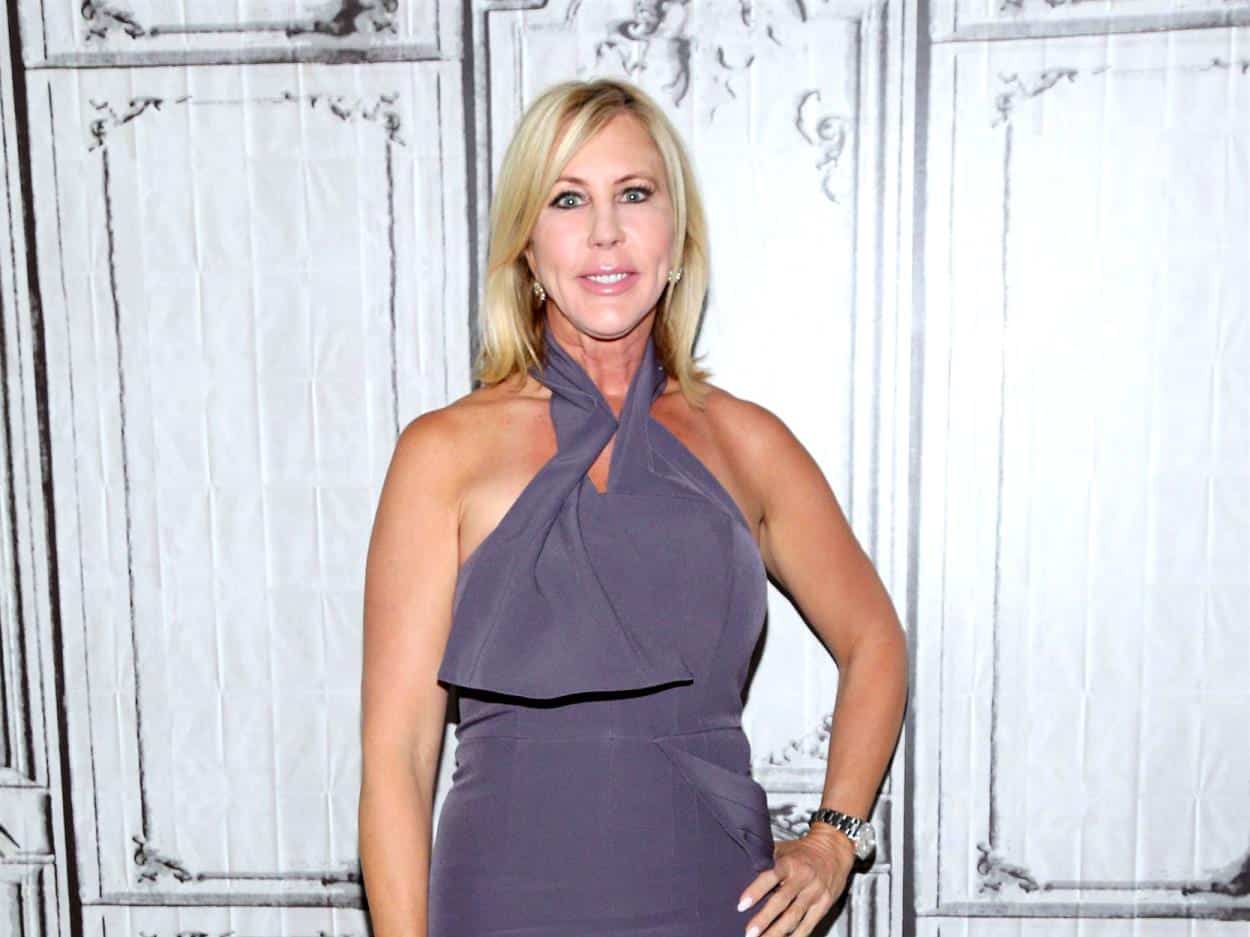 Vicki Gunvalson's reign as a full-time housewife on The Real Housewives of Orange County might be coming to an abrupt end after 13 seasons.
Following several days of speculation regarding Vicki's demotion, a report is sharing new details about the moments leading up to her role being downgraded, her reaction to the news, and her negotiations with Evolution Media in regard to a potential part-time return.
A production insider tells the Tamara Tattles blog that the decision to demote Vicki to a part-time housewife was actually set in motion back in January.
Last month, after Vicki chatted with the RHOC production team about her potential storyline on season 14, her castmates started receiving their contracts while Vicki didn't get hers. After she failed to hear about her contract renewal, she ultimately had her attorneys reach out to the producers to inquire about her future on the show.
A short time later, Evolution Media (the company that produces the RHOC) sent Vicki a contract for the new season which not only downgraded her role to a part-time cast member, but also included a much lower, day rate salary… similar to the one Bravo offered Kenya Moore last year, before she declined it and chose to walk away from her role on the Real Housewives of Atlanta. The Tamara Tattles site also accurately reported on Kenya's dispute with RHOA producers as it happened last year.
As for the reasons why the producers decided to demote Vicki, she was informed that she had not been testing well with Bravo TV focus groups and that the feedback from social media wasn't positive. She was also told that the episodes in which she was seen the most had the lowest ratings.
A separate source also tells the outlet that Bravo TV was hoping to modify the series in an effort to gain viewership from a younger audience, and one way they're trying to achieve that is by adding younger housewives. It's common knowledge that advertisers tend to prefer a younger audience, so being able to attract that base would mean more profit for the network.
While Vicki recently told fans she was "in negotiations" with the RHOC producers just days ago on Twitter, the report states that as far as the producers are concerned, negotiations are over, and it's now a 'take it or leave it' situation.
Last week, production began on season 14 with the series' returning cast members, including Tamra Judge, Shannon Beador, Kelly Dodd, Gina Kirschenheiter, and Emily Simpson. So, if Vicki wants to be a part of the new season, she's going to have to accept the offer she's been given and return home from the Bahamas, where she reportedly went to "regroup and center herself."
As Vicki reportedly remains unsigned for season 14, a potential new housewife has already been spotted filming with the other women. Over the weekend, Shannon and Kelly were seen enjoying a night out at The Quiet Woman with Braunwyn Windham-Burke, a married mother of seven who resides in Newport Beach, California.
In addition to Braunwyn, Evolution Media is also said to be in contact with another possible newbie who has yet to be named.
The report adds that there will likely be five full-time members included in season 14 with another woman or two added to the cast in "friend" roles.
In the meantime, as she ponders her future on Bravo, Vicki appears to be teasing an upcoming engagement to her beau Steve Lodge, as she shared a video of herself trying on engagement rings during their vacation in the Bahamas this week. Screenshots from Vicki's Instagram Stories are below.
The Real Housewives of Orange County season 14 will air later this year on Bravo TV.
Photo Credit: Elizabeth Pantaleo/startraksphoto.com