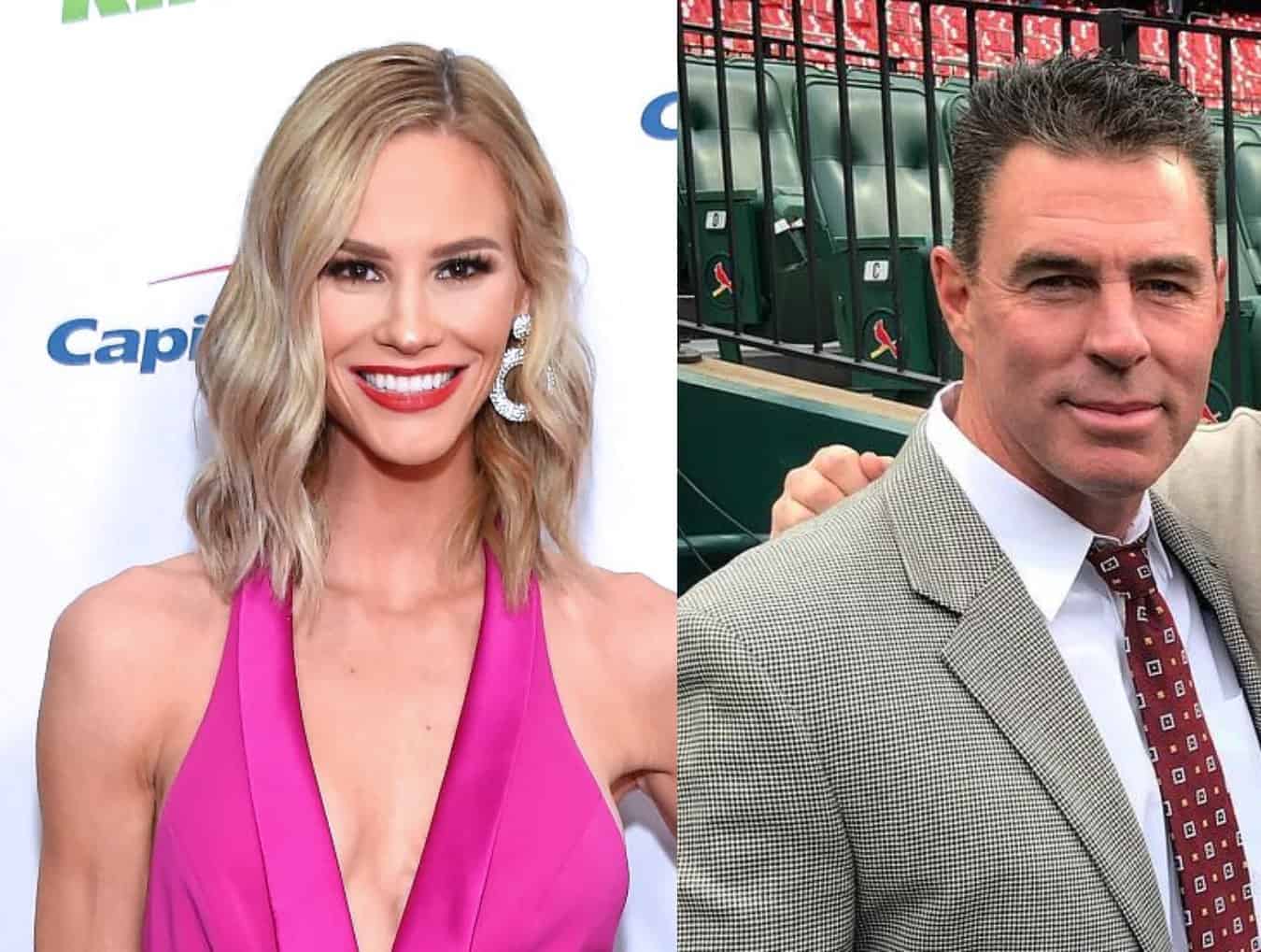 Meghan King Edmonds looked back on the moments that followed Jim Edmonds' divorce filing during an appearance on Heather McDonald's podcast earlier this week.
After confirming she found out about Jim's filing in the press, the former Real Housewives of Orange County cast member said Jim took a number of her belongings when he left her before revealing how she feels about watching Jim on old episodes of the show and sharing her thoughts on dating.
"[Jim] literally packed a bag and left. He packed up his hard drive from his computer, the credit card out of my wallet, like everything," Meghan revealed on Juicy Scoop. "He wanted to make sure I had no access to his money, so I didn't, even though he left me with his… our three children."
According to Meghan, Jim rummaged through her purse while she was upstairs hiding from him with her mom and dad after a fight. He took her credit card out of her wallet before also snatching the gifts he got her for their five-year wedding anniversary the day before.
"He got me a pair of Chanel boots that I wanted that I tried on in the store and put on hold and a pair of jeans. He took those too!" Meghan shared. "He took my gifts for the anniversary."
Since their split, Meghan has been living in Los Angeles and is completely estranged from the two children Jim shares with his second wife, Allison Jayne Raski, son Landon and daughter Sutton.
"I've been blocked from their phone numbers, from their Instagrams, they've been told things that were never said," Meghan explained, adding that she'd been in the kids' lives since they were four and seven. "They were little. They felt like my full-blown step kids. Like, they were my family. I did so much for them… It's so heartbreaking."
While Meghan is no longer in touch with Landon and Sutton, she's hopeful for a future reunion.
"I kind of think [a reunion will happen once they're older] because I know they are being poisoned with a lot of different things about me that aren't true… and they know me well enough to know who I am. Hopefully, they'll come back. In the meantime, I'm praying for them," she noted.
Looking back on her time with Jim on RHOC, which spanned from season 10 to season 12, Meghan said she was "such a dumb*ss."
"I was watching myself, like, 'Oh my God, Meg, you are so dumb,'" she admitted. "I was defending him so much, like any good spouse. I think I was brainwashing myself a little bit to really not see what was really going down."
When Heather then asked Meghan what "was really going down," Meghan said that when the spotlight shifts from Jim, "it's a challenge for his ego."
Although Meghan admitted that she understood if Jim didn't want to be included in certain filmed moments with her and her co-stars, a number of their interactions were quite cringeworthy, especially during the time she was going through IVF.
"If you want to skip a party, okay fine, but maybe if your wife is going through IVF you make more of an effort. That bothered me," she shared. "It was hard for me to watch a lot of the interactions that Jim would have with me."
Meghan and Jim got married in October 2014 after just a year and a half of dating.
"I think [Jim proposed after] like eight months… [It was] pretty quick," she admitted.
While things between Meghan and Jim appeared to be going well for the first few years of their marriage, Jim found himself in a highly-publicized sexting scandal in June of last year. Then, after acknowledging Jim's betrayal in an emotional blog post, Meghan, who believes she is "an enabler," wrote a public apology on his behalf.
"I'm supportive. He's not the best writer so I helped him. I helped him. I'm like, 'Oh, he means this,'" she recalled.
As Jim moves forward from their messy split with new girlfriend Kortnie O'Connor, Meghan confirmed she's open to dating before revealing she's "gotten a lot of DMs" since exposing Jim and Kortnie's romance on her podcast.
"I mean, I'll click on them but I haven't accepted them into my inbox," she joked.
Photos Credit: O'Connor/AFF-USA.com/MEGA, Instagram