Margaret Josephs recently debuted the results of her facelift on her Instagram Stories.
After going under the knife with Dr. Mark Karolak, a New Jersey-based board certified plastic surgeon, before the Real Housewives of New Jersey's reunion, Margaret shared a series of before and after images of her plastic surgery and revealed it was her longtime friend and co-star, Dolores Catania, who referred her to the doctor.
"I had this facelift revision after the season for reunion. [Dr. Karolak] is the absolute BEST," Margaret wrote in the caption of her first post.
In addition to a before and after image of herself, Margaret's post also included details of her procedure, revealing that she underwent upper and lower eyelid lifts, a cheek lift, and jawline and neckline revisions.
In a second post, which featured before and after photos of Margaret with her chin facing down, Margaret commented on her past look before giving a nod to Dolores, who underwent a facelift of her own in 2019.
"Ooof I needed that," Margaret wrote, along with a couple of stuck-out-tongue and winking emoji. "Thank you [Dr. Karolak]. And… Thank you [Dolores] for introducing me."
With a third post, Margaret included before and after photos of herself with her chin up and told her fans and followers that the facelift was "literally like magic."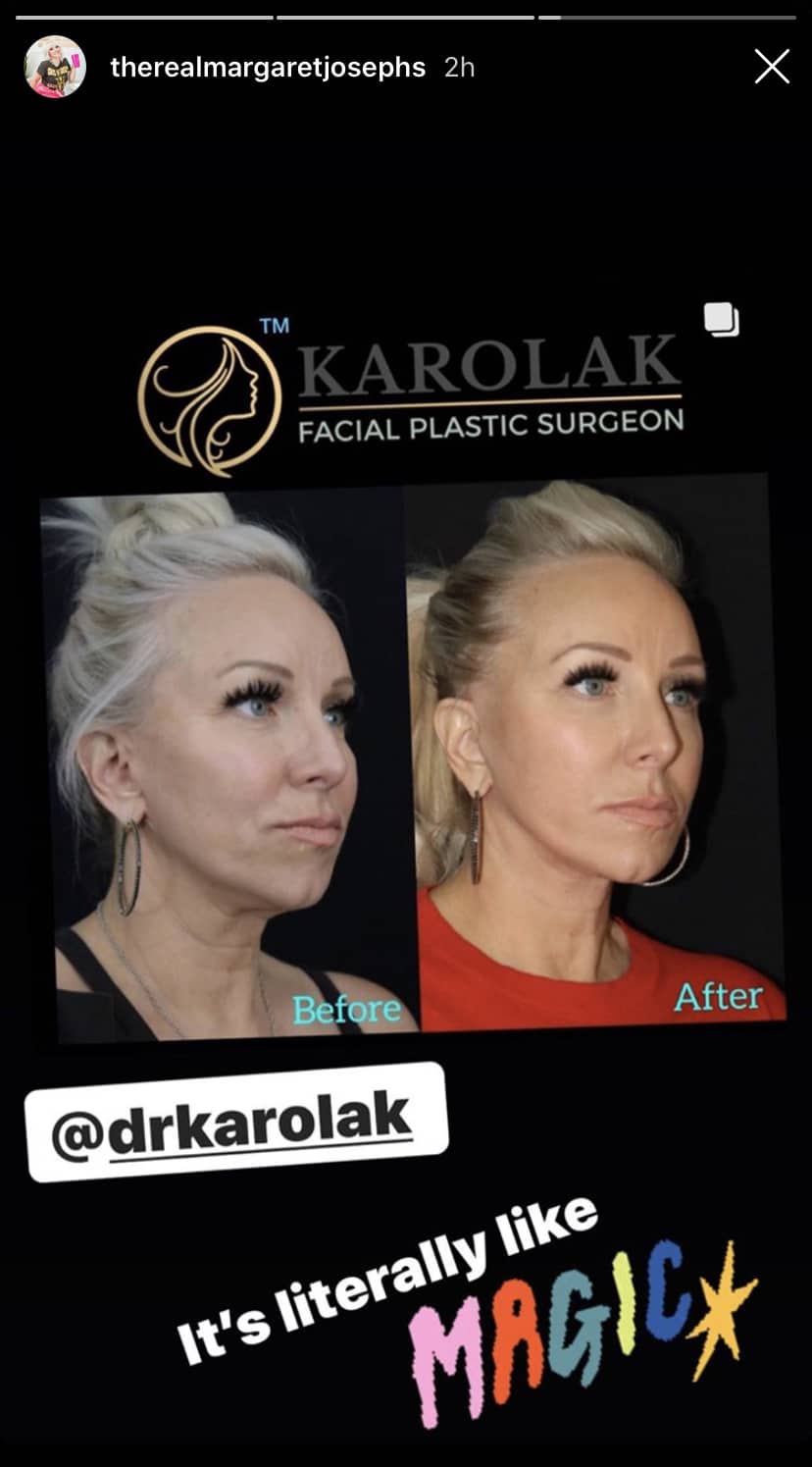 As RHONJ fans may have seen, Margaret and her co-stars were set to begin production on the series' upcoming 11th season in March but were forced into a hiatus due to the coronavirus pandemic.
The following month, Margaret spoke to Gibson Johns for In the Know and said that prior to the shutdown, she and her co-stars were excited to get back in front of the cameras.
"I had a feeling it was [going to shut down, but] we didn't know it was going to happen," she said. "We were excited all to be back, to start back together and get back into it. That's when we always start, and we were looking forward to doing exciting things and be together. And then, you know, we just stopped."
Photo Credit: JOHN NACION/startraksphoto.com