Stassi Schroeder recently took her fans and followers inside her $1.7 million Hollywood Hills home.
As she and husband Beau Clark, who she married last month in an outdoor ceremony, prepare for the January 2021 arrival of their first child, the former Vanderpump Rules star has been nesting and creating the perfect space for her family, which she showed off on her Instagram Stories on Tuesday night.
"My house already looks haunted even without my Halloween decorations [and] that's how I know I'm home," Stassi told her online audience as she showcased a gallery wall in one of her home's rooms on October 13.
While the ex-Pump Rules cast member has not put out her Halloween decorations quite yet, she did have a couple of white pumpkins situated on a dark banquet in the same room as well as a series of tall vases and a gold-framed mirror.
Also in the room was a dark round table with a stunning crystal chandelier hanging above it.
According to Stassi, the room is "such an ideal spot for seances."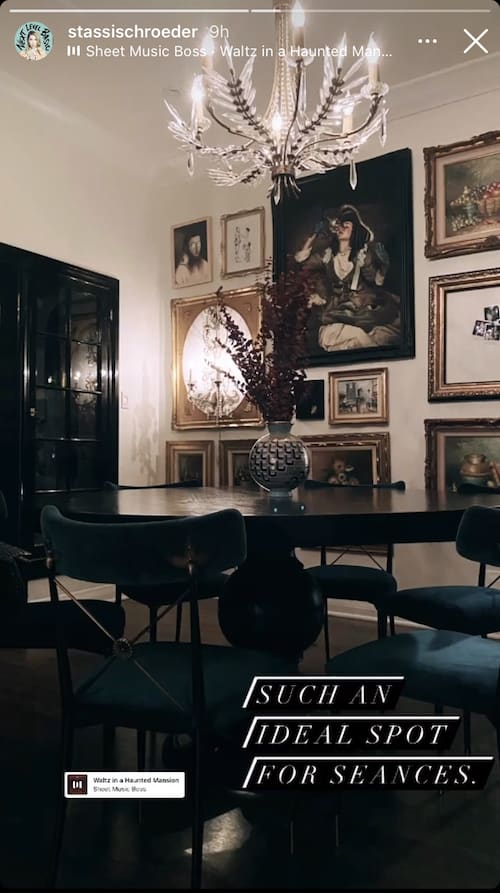 Back in March, Stassi shared a series of photos following her home renovation including a before and after shot of her staircase.
She also shared pictures of her living room and freshly painted bookshelf.
Stassi later showed off images of her master bedroom, which features an OOTD (Outfit of the Day) mirror.
Stassi and Beau moved into their Hollywood Hills home earlier this year after previously shacking up at Stassi's apartment in West Hollywood, which fans saw for years on Pump Rules.
While the couple has had quite the eventful year with the purchase of their first home, Stassi's pregnancy, and their wedding, fans won't be seeing any of it on the potentially upcoming season of the show because Stassi's contract was not renewed for a ninth season following a racism scandal in June.
Although Stassi was certainly devastated when Bravo cut ties with her, she admitted on The Tamron Hall Show last month that she no longer feels that reality television is the best space for her now that she's pregnant.
"My life feels very different right now," she explained. "I think when something like this happens and you get pregnant on top of it, you take inventory of your life and you think what is going to be the best for my future child and I think getting drunk and starting conflict and misbehaving on a reality show isn't my journey anymore."
No word yet on when the rest of the cast will begin filming Vanderpump Rules season nine.