Lesley Cook is speaking out after seeing that Vicki Gunvalson sent a congratulatory message to her and her husband David Beador on her Instagram Stories following the news of their baby girl's arrival earlier this month.
After the Real Housewives of Orange County cast member said she was "so happy" for David, Lesley responded to her kind message while also reacting to a recent shoutout given to her by Wendy Williams on her daytime talk show.
"Someone sent me this. TY Vicki. That's very sweet," Lesley wrote, via AOL, on her Instagram Stories on Tuesday, February 9. "Now, if someone could go on record that we didn't have an affair like implied on the show for a storyline, that would be epic."
After David began dating Lesley in early 2018, just months after his 17-year marriage to Shannon Beador, the mother of his three older daughters, came to an end, it was alleged that the couple had actually started communication with one another much earlier and potentially had an affair during David's marriage to Shannon.
"It's had a tremendous impact on my [family's] life. In the end, everything comes to light! This is why I've tried so hard for years to stay quiet," Lesley explained.
Also on her Instagram Stories, Lesley shared a screenshot and video clip of Wendy discussing the arrival of her daughter, Anna, and mentioning Shannon's past issues with David.
"I didn't see this but I have been a huge fan of [The Wendy Williams Show] for years!!!" Lesley wrote in the caption as a photo was seen of herself, David, and Anna, on the show.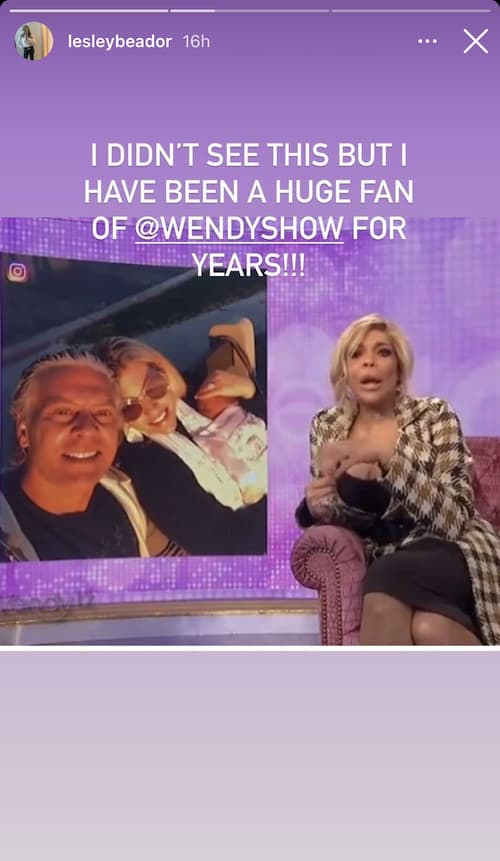 In the video clip Lesley shared, Wendy mentioned Shannon's ongoing struggles with overeating and said she fought frequently with David during the time he spent on RHOC.
Lesley and David became engaged in January 2020 and tied the knot in October 2020 during a beach ceremony.