Crystal Kung-Minkoff hosted an "Ask Me a Question" session on her Instagram Stories earlier this week, where she spoke about the upcoming 12th season of The Real Housewives of Beverly Hills.
Before revealing the biggest misconception she believes fans have about her and teasing the season 11 reunion, Crystal shared her thoughts about returning to Bravo for the new episodes.
"Will you be back on the RHOBH? You are my [favorite]," one fan wrote to Crystal during the October 3 Q&A.
"Thank you. Nothing is confirmed. However, toward the end of the season it's pretty obvious I get more comfortable in front of the cameras. So I think the next go around would be more fun," Crystal replied.
When a second fan asked Crystal what she felt was the "biggest misconception" people have about her, Crystal said she believes people think she's "cold."
"That I'm cold. I just close up and do my best to stay composed in stressful situations. But inside, I could burst into tears," she shared. "It can be hard to show your vulnerability and emotion sometimes. But on TV, I guess it reads cold?"
Then, when a third fan asked Crystal to describe the four-part RHOBH reunion, Crystal said the taping was "unexpected," "intense," and "heated."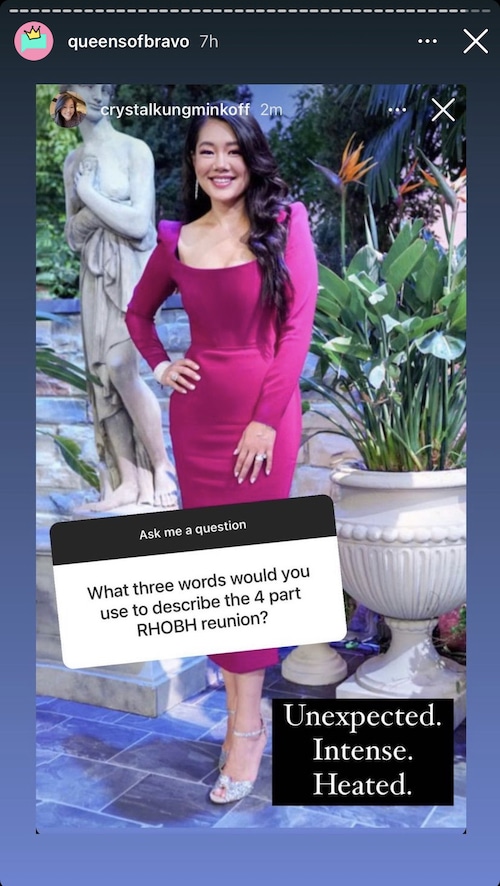 In other Crystal Kung-Minkoff news, the mother-of-two recently opened up about why she chose to give Erika Jayne "respect" throughout RHOBH season 11 despite the legal drama she was facing.
"People are like 'team this, team that'. I'm just getting to know these people. I'm not a team," she explained to Hollywood Life. "[Erika] kept telling me about [her ex-husband Thomas Girardi] having Alzheimer's and my dad had Alzheimer's so my heart and my empathy all lean in because of that."
According to Crystal, she and Erika spoke regularly about their common experience with the disease.
"I just kept thinking, 'What if this was my dad? What if this kept happening?' … I take people at face value. That's who I am. This is who I am, always, so I give that respect to people automatically because I expect that in return," Crystal shared.
When Crystal was then asked if she believed all that Erika had said throughout the season, she said, "I think it's really not my place to. Nothing's settled so I'm taking it day by day."
That said, Crystal admitted that when it came to the reunion, she "had questions."
"It's definitely a wild reunion, I think, sitting there for 10 hours … it was really intense," she revealed. "I think there are a lot of answers that people have been looking for. I think that people are going to be satisfied. I think people will surprised at where people are, stuff like that. There's going to be a lot of surprises. It gets heated."
One particular "heated" moment of the taping featured Crystal and Sutton Stracke.
"I'm just really happy that the Sutton thing was very early so there's a lot of time to sort of settle. I was ready. I was ready for it and it went well, I think," she shared. "I was very nervous."
The Real Housewives of Beverly Hills season 11 airs Wednesdays at 8/7c on Bravo.