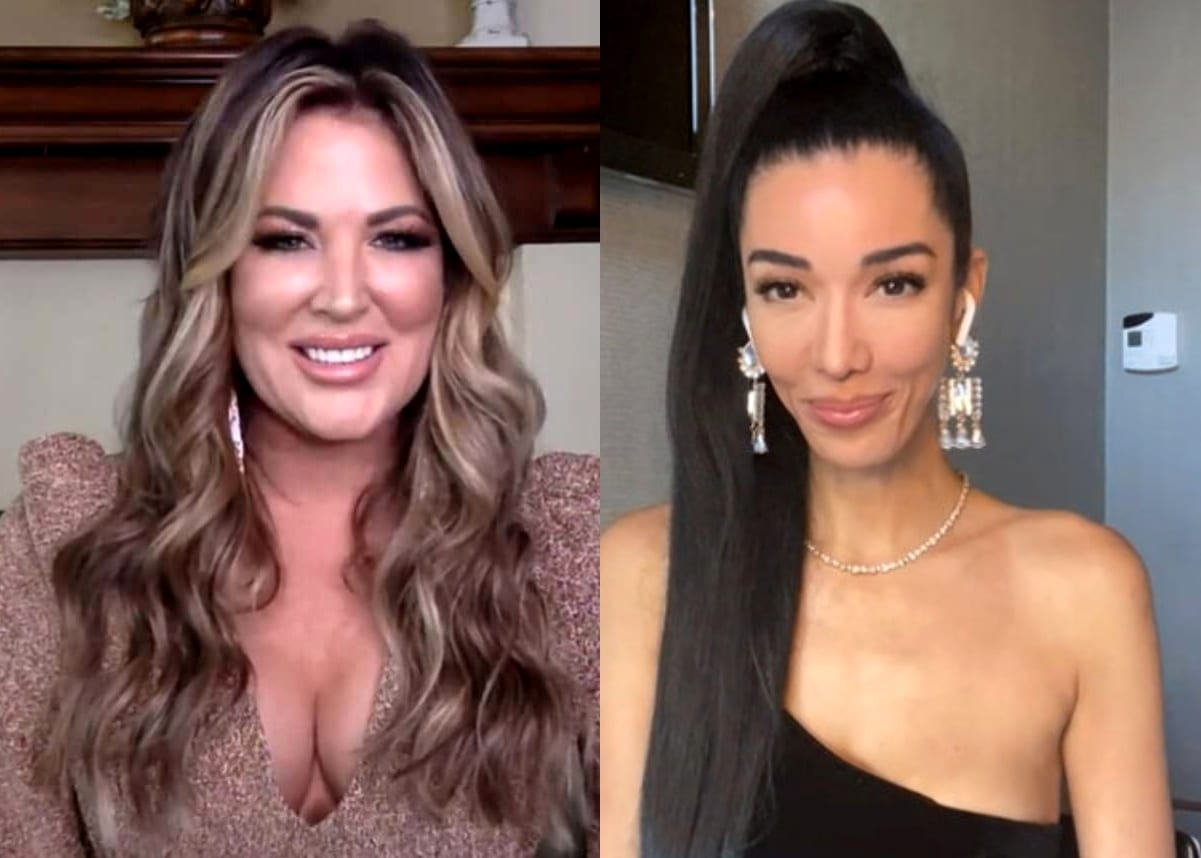 Emily Simpson seems to have some major questions in regard to the statements Noella Bergener has made about her messy split from estranged husband James Bergener.
As Noella continues to be seen dealing with a split she claims James completely blindsided her with, the Real Housewives of Orange County cast member suggested there are "holes" in her story while also commenting on the way she plays victim and more.
"When I first met Noella I was very very much on her side and believing her because I had nothing to compare it to. Now that all this stuff is coming out and he's releasing statements and his attorneys are releasing statements, I will tell you, as an attorney… I go back through what she told me on what dates. I make timelines. I will tell you, I can blow holes through a lot of things," Emily declared during an interview with Us Weekly shared on January 22.
According to Emily, she's listened to and read a lot about Noella and James' split. And when it comes to Noella's recent claim that she's "squatting" in the "mansion" where she and James once lived together, Emily said their lease expired.
"As far as what I read from documents, the lease was up. And I don't know what their financial arrangement was. Maybe he was only financially obligated to pay the length of their lease and then that was it," she shared. "[So] if she's illegally squatting there, she should find somewhere else to live."
Throughout the past few episodes of RHOC, fans have watched Noella butt heads with cast members, only to blame the encounters on the heightened emotions she's experienced due to her divorce.
"I do believe that that is an ongoing theme, where it's like, 'Yes. We feel badly for you. No one wants you to be in this situation but you can't be the aggressor and be hostile but then when someone calls you out on being aggressive you go right back into victim mode and [say] I'm going through a lot,'" Emily said in response, noting that she and Noella are still in touch.
"She will text a little bit and I will text back. I don't have any ill will towards her at all and I do want what's best for her," she confirmed.
In addition to Noella's split from James being a hot topic on the show, the past marriage of Dr. Jen Armstrong was also recently discussed. And as viewers will recall, Emily didn't hold back when it came to her questions about Jen's attraction to the much older billionaire businessman.
"I don't regret it. She gives Noella a lot of crap about how Noella met her husband on like seekingarrangements.com. So I was like, 'I know about you and your past. You're going to tell me you were with him not because he was a billionaire?'" she recalled.
Although Emily and Gina Kirschenheiter have been accused of kissing Heather Dubrow's a– since she rejoined the show for season 16, Emily said she has simply been "kind and respectful" to her co-star because that's all she's been to her.
"If she said something about me, of course I would address it with her but she never did," Emily explained.
Also during the interview, Emily said she "wouldn't mind [Vicki Gunvalson] back on the show" because she's "good TV" and said she hasn't talked to Kelly Dodd "that much lately."
"She kind of does her podcast thing and sometimes I'm like, 'Well that wasn't very nice.' But she's allowed to say what she wants to say," Emily noted.