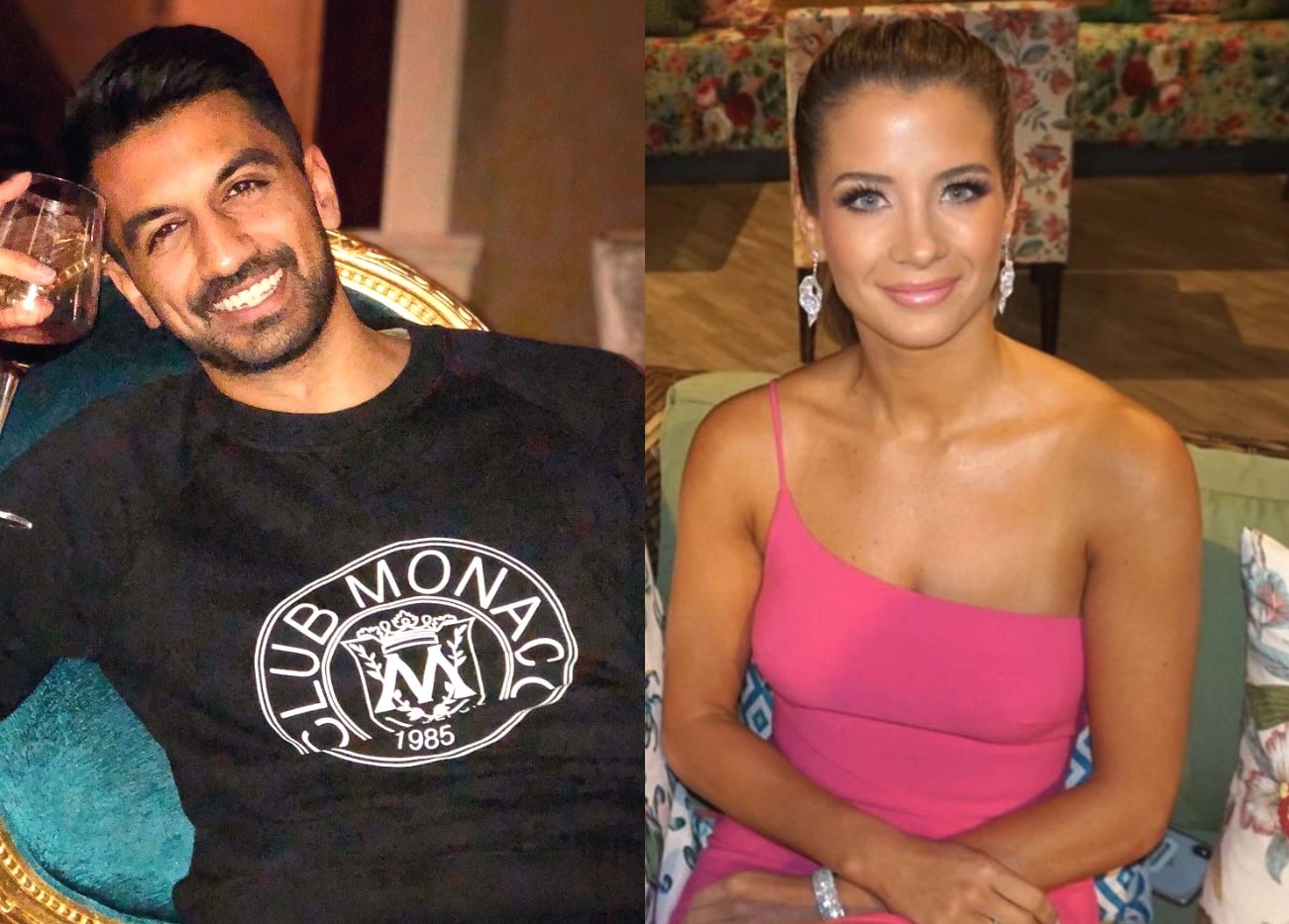 Naomie Olindo detailed her messy split from Metul Shah during a podcast appearance on Monday.
Months after revealing she was betrayed by Metul after about three years of dating, the Southern Charm cast member said she first came across proof of Metul's infidelity as she attempted to show her friends a photo of a restaurant on his desktop computer.
"I type in the restaurant name and in the time it took for the picture of the restaurant to come up, his iMessage [window] popped up… And it was like a year's worth of texts with his ex and explicit pictures… the whole nine yards," Naomie revealed on The Skinny Confidential Him & Her Podcast. "I call him and I was like, Hey, 'I just want you to know I saw the messages with Sophie and this is done.' And hung up the phone and he tried to call me, you know, a hundred times."
Although Naomie was certainly shocked in that moment, she admitted to ignoring red flags, recalling how Metul left her in charge of moving them to New York City.
"He really didn't do anything to help," she recalled of their move. "He's like, 'Okay, I'm thinking I'm going to stay here this weekend. So you just go and drive up the furniture.' And I was like, 'Yeah, sure, no problem.' That's how used to doing everything myself I was. I was used to zero contribution on his end," she explained.
Despite feeling that Metul wasn't contributing in the way she would hope, Naomie said she went through a "really difficult" time after they split and said Metul exhibited narcissistic behavior as he attempted to come back into her life.
"They'll say all the right things, they know exactly what they've been withholding from you, like previously in the relationship, what you crave," she described.. "I was like, 'Well, maybe this is a trade-off… He doesn't scream at me. He doesn't call me names. So alright, you know, I'll take it.'"
According to Naomie, Metul wasn't meeting her needs in full prior to their breakup.
"I just wanted to have deeper conversation. [I] remember, I would try to talk to him and he'd be like, 'Okay, stop talking. I want to go to sleep. Just stop talking,'" she recalled. "And that takes away so much intimacy over time. And I think I just want to feel loved. I don't think that he ever truly loved and accepted me."
Instead, Naomie believes Metul was with her because of what she could offer him or what he thought he could gain from being with her.
"[He] would perk up if I started talking about anything financial. He'd be like, 'How much did you make on this?' Or when he wanted something. [And] when you're in your medical residency, you don't make any money and you work crazy hours. So I felt bad," she admitted.
As Naomie attempted to cope with her breakup last year, the media got ahold of the scandal and she was thrust into many headlines.
"I still to this day don't know who told. Cause it was really only our good friends at my house that day. And it was already out there before I even had time to wrap my brain around it," she revealed. "I was still trying to process what had just happened that, you know, infidelity is the thief of reality. So I was like, 'What is my life? What am I doing? What have I been doing? Who is this questioning my judgment? How did I not see all this?' And yeah, everybody knew."
In addition to being faced with the complete exposure of her heartbreak, Naomie also found herself feeling badly for Metul due to the backlash he received online.
"[I was] still defending him at that point, even though he had done essentially the worst thing you can do to somebody that trusts you," she shared.
While there was a lot of pain involved in Naomie and Metul's relationship, Naomie also applauded her now-ex for stepping up to support her after the death of her father.
"That is actually something that kept me with him probably longer," she noted. "It was the bond, like he had met my dad and he was there for me when my dad was sick. And that was really important. He was there for my mom a lot… He was there and he spent a lot of time with me and he flew to France and missed work and stuff like that."
"But now in hindsight," she continued. "I'm like, 'That's just kind of a basic human thing to be there for somebody.'"
"I also hung on to him cause I'm like, 'My dad thought I was going to be with this person. And I want whoever I'm with to remember my dad,'" she added.
As for how she feels about Metul today, Naomie said that although she has nothing to say to him, she doesn't hold any ill will.
"I definitely don't hold any like hatred for him. I really wish him the best… I just don't think he's even really worth me having any negative feelings or any feelings at all at this point," she explained.
Southern Charm season eight will air later this year on Bravo.