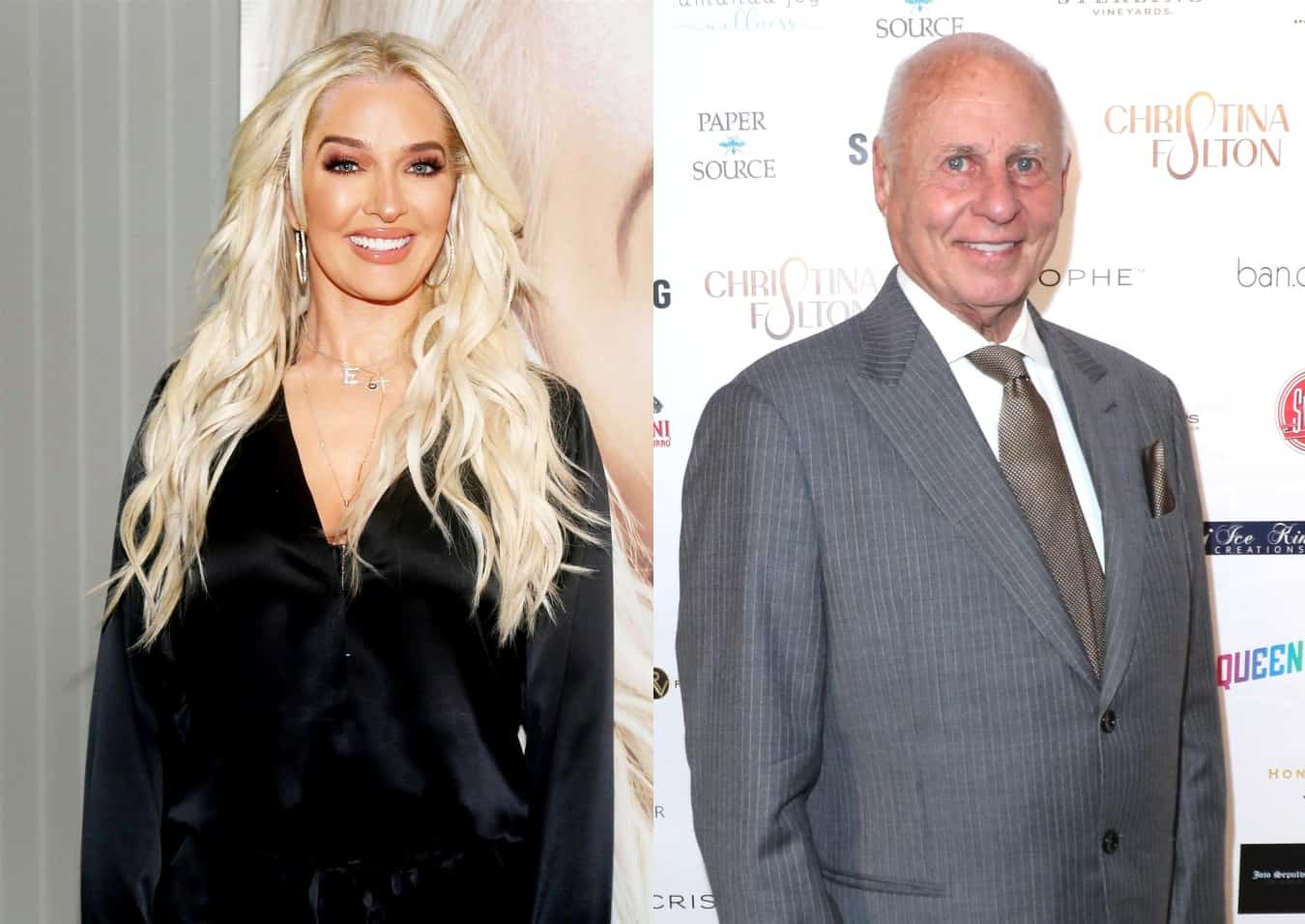 Erika Jayne may have been dismissed from a $2 million embezzlement lawsuit filed in Illinois in December 2019 earlier this year, but unfortunately for the Real Housewives of Beverly Hills cast member, she's been dragged into an even bigger one months later.
Over two years after Erika was targeted, along with now-estranged husband Thomas Girardi, his now-defunct law firm Girardi Keese, and others, by Chicago-based firm Edelson PC, who worked as co-counsel with Thomas and his team to secure settlements for family members of victims of a 2018 Lion Air crash, Edelson PC filed a new lawsuit against the parties in the U.S. District Court for the Northern District of California.
On July 7, Bloomberg Law revealed the lawsuit accuses Girardi Keese of stealing more than $100 million from clients, co-counsel, vendors, "and many others unfortunate enough to do business with the firm," and it claims they did so to fund the over-the-top lifestyles of Thomas and Erika.
"When the curtain was finally pulled back, it became clear that Girardi Keese operated in a manner similar to a Ponzi scheme, but much worse," the lawsuit alleged.
In addition to Thomas' firm, a number of other defendants have been named, including David Lira, Thomas' son-in-law, who previously worked at Girardi Keese, Erika, and Erika's company, EJ Global LLC.
"EJ Global was created for the purpose of funneling money from Girardi Keese to benefit Erika," the lawsuit said.
But in response to the case, Erika's attorney, Evan C. Borges, slammed the lawsuit as "another misguided attempt to blame Erika for actions of Tom Girardi and others of which she had no knowledge and in which she had no involvement."
Following Edelson PC's filing of their $2 million embezzlement lawsuit against Erika and Thomas in December 2019, Thomas' creditors forced him into bankruptcy. And shortly thereafter, the once well-respected attorney was officially disbarred and ordered to pay more than $2.28 million for funds stolen from clients.
According to Edelson PC's lawsuit, Girardi Keese not only stole from clients but also falsified their expenses, commingled stolen client funds, offered case runners cash for client referrals, bribed judges, and threatened clients to "prevent the scene from collapsing."
"They used to be a law firm but at some point, they turned into a criminal enterprise," California State Senator Tom Umberg explained.
In an email on Thursday, Jay Edelson said his firm's case against Girardi Keese is "unique."
"We are unaware of any suit that alleges that the firm was essentially a criminal enterprise acting as a law firm. We are confident that Tom orchestrated the largest Ponzi-scheme in the history of the plaintiff's bar, stretching back well over a decade (and likely much longer) and involving hundreds of millions of dollars," he wrote.
As reported by Bloomberg Law, the lawsuit accuses the defendants of "violations of the federal Racketeer Influenced and Corrupt Organizations Act (RICO); conspiracy; mail fraud; wire fraud; money laundering; engaging in monetary transactions in property derived from specified unlawful activity; obstruction of justice; transporting stolen goods; and violating the California Unfair Business Practices Act and California Penal Code for receipt of stolen property and aiding and abetting concealment of stolen property."
The lawsuit went on to criticize the state bar in California, saying they failed to investigate complaints against Girardi Keese.
"Tom maintained a spotless record before the State Bar. The fraud thus continued, with only the occasional glimpse of the rot inside the Girardi Keese firm," the lawsuit said. "[He] cultivated the impression that not only was he a successful and powerful attorney, but he actually controlled the relevant authorities, including the agency charged with disciplining attorneys, the State Bar of California… And reportedly went so far as to bribe a longtime investigator at the State Bar."
Us Weekly also shared more details on the lawsuit in which Erika is accused of knowing of Tom's alleged scheme.
"Erika knew of the scheme, intended to participate in it and — critically — share in its profits, both directly and through her wholly-owned company, EJ Global," the suit claims. "Despite her public claims that she and Tom were spending their own money, financial records show that more than $25 million of her own expenses were paid by Girardi Keese in furtherance of the Girardi Family Enterprise's illegal scheme."
The Real Housewives of Beverly Hills season 12 airs Wednesdays at 8/7c on Bravo.