Vicki Gunvalson hosted a Q&A on her Instagram Story on Wednesday night, and while answering numerous questions from her fans and followers, she revealed where she stands with her former husband, Donn Gunvalson.
Before admitting that her daughter, Briana Culberson, would "love" to return to filming on The Real Housewives of Orange County, sharing her favorite season, and dishing on her current status with Shannon Beador, Vicki confirmed if she and Donn are still in touch.
"Do you ever talk to [Donn]?" a fan asked during the July 13 chat.
"Yes, we have a  very nice relationship," Vicki responded. "He's a great man."
Another fan told Vicki to "make [Briana] move back to [Orange County] to carry on the RHOC tradition." But, as Vicki explained, she loves her new home in Chicago.
"She would love to film again, however she has a beautiful place in [Illinois]," Vicki revealed.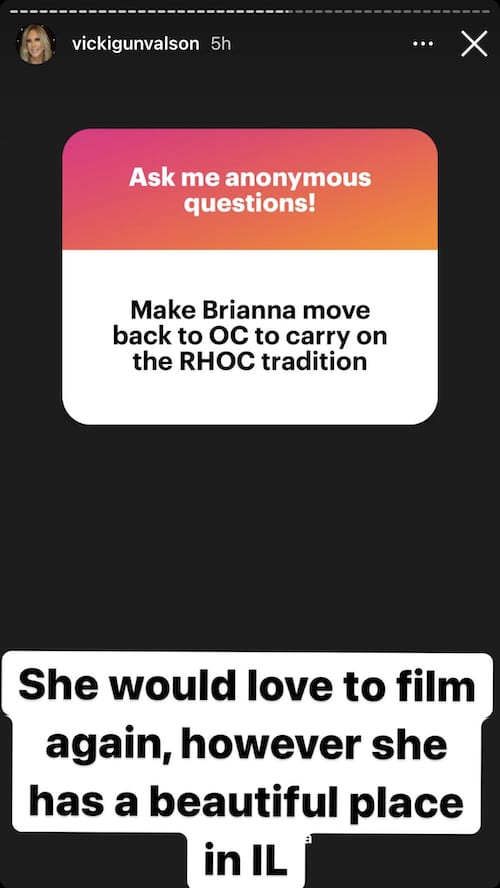 Someone else wanted to know why Tamra Judge wasn't at her birthday party.
"She was celebrating [Eddie Judge]'s [birthday] that same night," Vicki shared, seemingly confirming the snub didn't cause any tension between the two of them.
As for her favorite season of RHOC, which she starred in a full-time role from season one until season 13, and in a demoted "friend" role for season 14, Vicki said that honor went to the very first season of the show.
"Season [one] because I had no idea what reality TV was," she explained.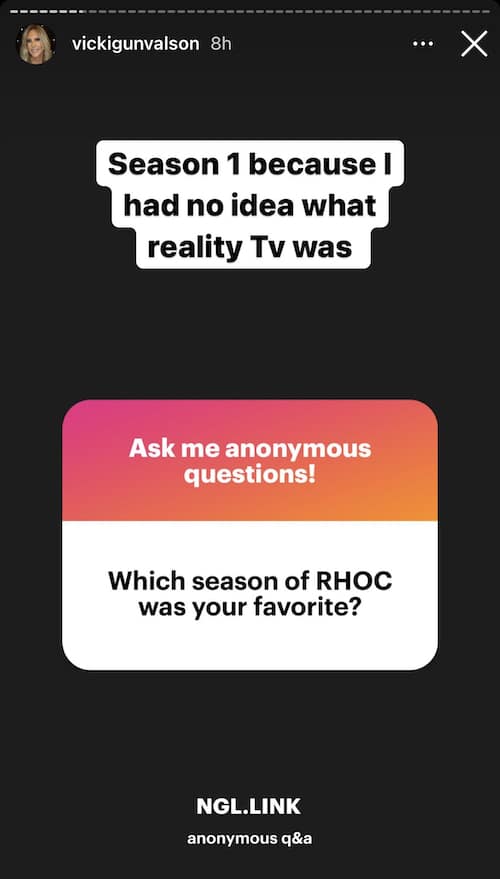 Another person called for Vicki's return to the show, saying that the series "isn't the same without [her] and [Tamra]," before questioning her about where she stands with Shannon.
"Have you or do you speak to Shannon," the fan asked.
"Yes I love Shannon," Vicki admitted. "I talked to her a few weeks ago."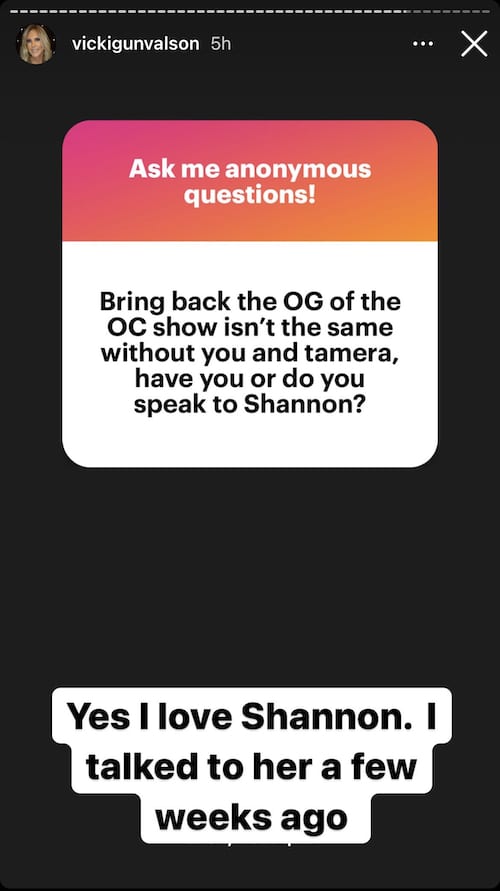 After suffering a falling out with Shannon following her exit from RHOC in January 2020, Vicki remained on the outs with her former best friend and co-star for years. However, when asked about Shannon during a February interview on Access Hollywood's Housewives Nightcap, she said she wished her "nothing but the best" and detailed a recent run-in.
"I have nothing against Shannon. She looks great. She knows this man that I'm dating, and so we had a little talk [when we ran into each other.] It was nice. It is good to see her because we were best friends," she noted.