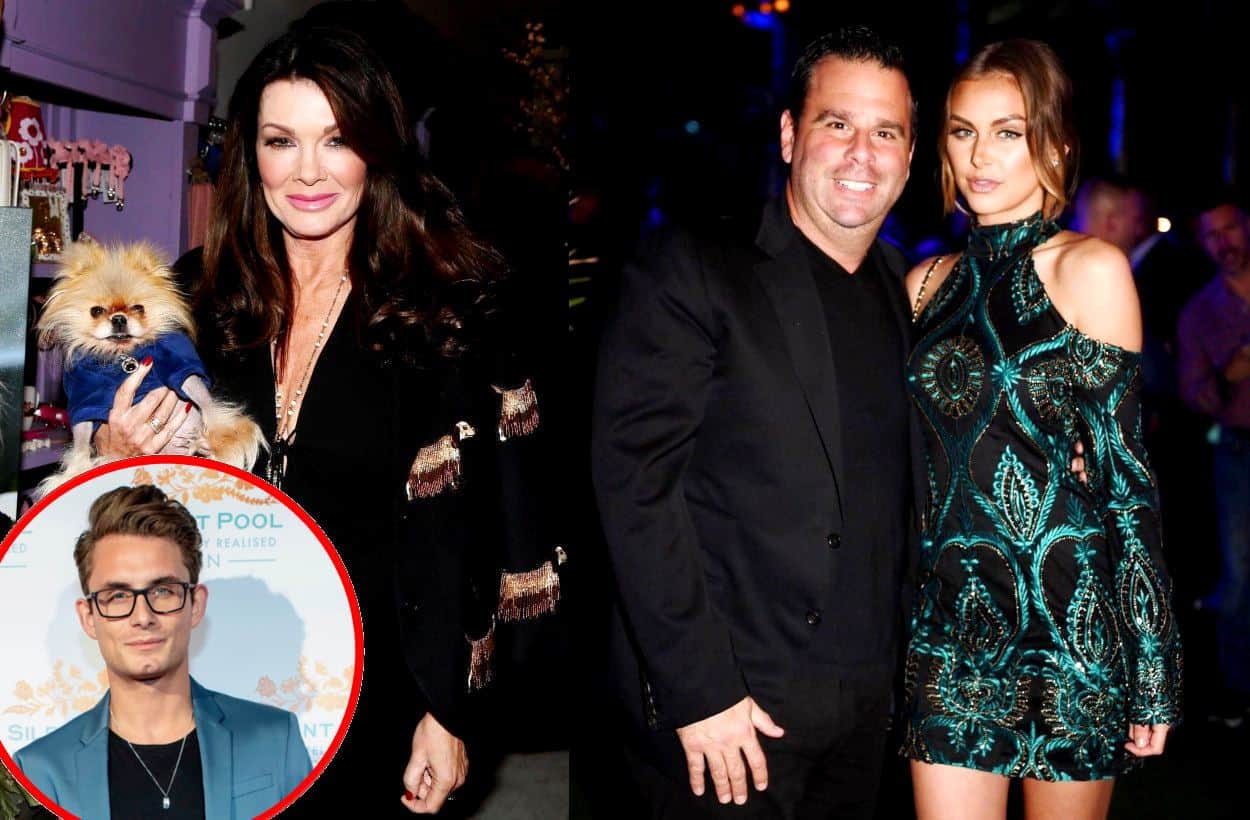 Lisa Vanderpump believes Lala Kent and Randall Emmett should expose their relationship to the Bravo TV cameras.
During an interview, the Vanderpump Rules cast member said that while she is happy to see that Lala is finally acknowledging her romance with the Hollywood producer on the show, Randall "should" eventually agree to join the show.
"Well, I don't know their relationship that intimately, [but] I'm actually pleased now that she can be more open about who she's dating 'cause I think on a reality show if you're shut down, it starts to kind of really provoke a lot of questions," Lisa explained to The Daily Dish on January 9.
As fans will recall, Lala hid her relationship from the public throughout the show's fifth season but because of her suddenly over-the-top lifestyle, which included a new Range Rover, fans began to suspect she was dating someone wealthy. Then, as rumors regarding her relationship with Randall, who was legally married to ex-wife Ambyr Childers at the time, began to surface, she continued to stay silent.
"People are more interested in what you're hiding than what you're saying. So I think that's good," Lisa noted.
While Lala kept her relationship with Randall a secret for nearly two years, she ultimately went public with the romance on Instagram in January of last year and has been flaunting their love on social media ever since. That said, Lala has insisted that she and Randall will never appear together on Vanderpump Rules.
In response to Lala and Randall's refusal to allow him to join the cast, Lisa said Randall "should" be on the show because he is a major part of Lala's life, especially now that they've gotten engaged.
"I think he should actually be present in her life on the show because I think he's an integral part of her life. So I think that's something she should deal with at some point," Lisa noted. "But I think that he's pretty supportive of her. When we've had dinner together he seems very supportive and supportive of the show, so that's a good thing."
Lisa is also speaking out and clarifying exactly how she knows James Kennedy's divorced parents Jackie and Andros Georgiou, after his mom was seen on a recent episode begging Lisa to give James his job back.
"Well, we're not that close," explained. Lisa. "It sometimes appears [that way] because of his perception a little bit … but I met James' parents through Bruno Tonioli a few years ago just before he started work for us, who's the judge on Dancing with the Stars, who's an old friend of mine. Prior to that, I had met Andros and Ken knew Andros vaguely. I'd met Andros with George Michael and Andros had been around the scene in London, so we knew him a little bit."
FIND OUT IF JAMES IS STILL WORKING AT SUR AFTER BEING FIRED!
She continued, "Then we had dinner that night and they both said, you know, could you give one of my sons, James, a job, maybe as a busser or a barback? He probably, because we'd started Vanderpump Rules by then, I think maybe we were in the first season, thought, 'OK, I want to get involved in this,' and obviously then he started sleeping with Kristen Doute, and he was well in there like a rat up a drain pipe."
Vanderpump Rules season seven airs Mondays at 9 p.m. on Bravo TV.
Photos Credit: Seth Browarnik/startraksphoto.com, Milla Cochran/startraksphoto.com