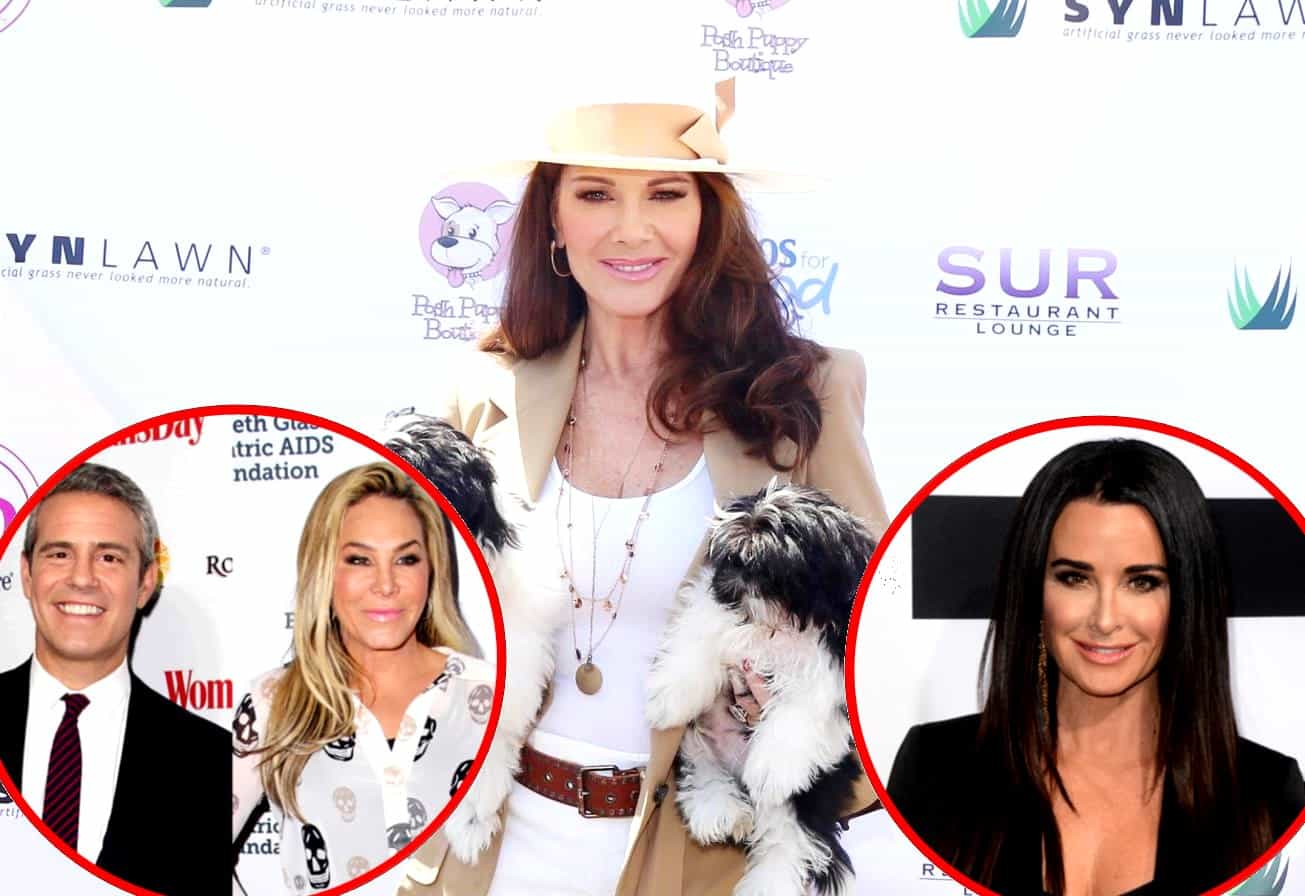 Lisa Vanderpump doesn't agree with sentiments aired by Andy Cohen during a recent episode of his Radio Andy show, Andy Cohen Live. She's also firing back at Kyle Richards after she implied earlier this week that Lisa was lying about not watching the Real Housewives of Beverly Hills this season.
Andy Cohen, a Bravo TV host and Real Housewives executive producer, compared his thoughts on Lisa's absence at the RHOBH season nine reunion to Lisa's thoughts on Adrienne Maloof's season three absence. Afterward, Lisa, a restauranteur and humanitarian, took to Twitter to share her thoughts while also confirming there is nothing she will miss about the show.
On June 11, Lisa responded to a fan who pointed out that her and Adrienne's situations were "very different."
"I wouldn't have showed up to the reunion if I was LVP either," the fan wrote. "The women have been absolutely abhorrent towards her. And they continued this behavior on social media long after taping had ended."
"Agreed," Lisa replied.
Agreed.????

— Lisa Vanderpump (@LisaVanderpump) June 11, 2019
During Monday's episode of Andy Cohen Live, Andy was asked how he felt about Lisa skipping the season nine reunion.
"Well, I will refer you to what LVP said about Adrienne not showing up at the season three reunion. LVP was spot on," Andy explained, referencing a statement in which Lisa stated Adrienne should have "come, cleared up the mess, and moved on."
In a second tweet, Lisa responded to a fan who suggested she would come running back to the show at some point after quitting.
"I miss nothing about that experience," Lisa replied. "I am currently filming #PumpRules."
I miss nothing about that experience….I am currently filming #pumprules

— Lisa Vanderpump (@LisaVanderpump) June 11, 2019
Lisa also took some time this morning to respond to her former friend Kyle. During Kyle's appearance on Watch What Happens Live on Tuesday night, she was asked what she thought about Lisa saying she wasn't watching the RHOBH this season, and Kyle appeared skeptical.
"Well she tweets about all the episodes… She and [Charlie Sheen] are watching together," said Kyle, during her appearance with Charlie's ex-wife Denise Richards.
Earlier today, Lisa took a shot at Kyle and the RHOBH cast when she tweeted: "Ha! Apparently I am lying and I do watch #rhobh … Oh well. Good morning, back from Vegas after tweaking it, going so well Now let's see who I can manipulate today."
While recent rumors suggested Kyle's sister, Kathy Hilton, could be brought to the show as a replacement for Lisa, both Andy and Kathy have since shut down those reports.
Photo Credit: Milla Cochran/startraksphoto.com, Kathy Hutchins/Shutterstock.com, Debby Wong / Shutterstock.com