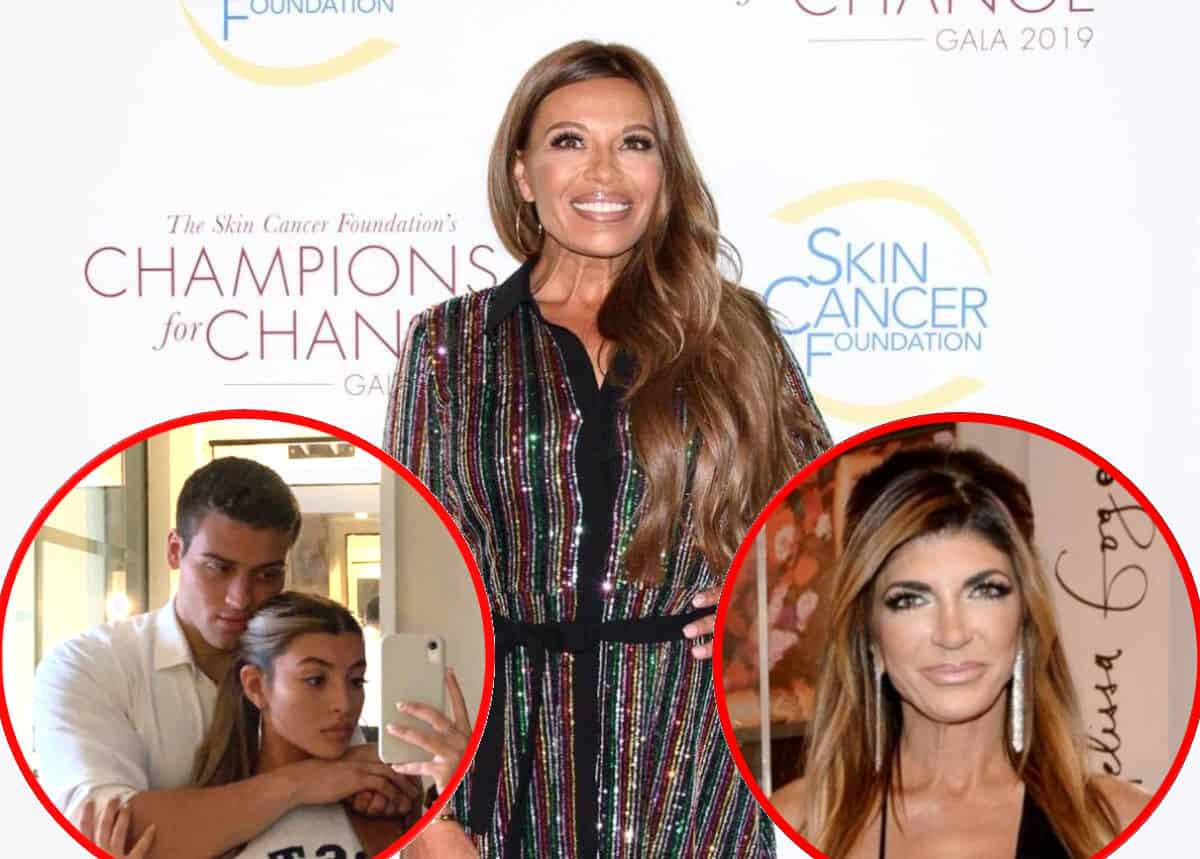 Dolores Catania's son, Frankie Catania Jr., has a new woman in his life.
During a recent podcast appearance, the Real Housewives of New Jersey cast member opened up about Frankie's new relationship with Alexa Mal, revealed if she and boyfriend Dr. David Principe are living together, and shared her thoughts on the tension between Teresa Giudice and Jackie Goldschneider.
"Does Frankie have a girlfriend? Yes he does. She's very nice. Her name is Alexa Mal. You can see her on Instagram. She does a lot of Instagram stuff. She's very pretty," Dolores revealed on the February 24 episode of Cup of Joe.
https://www.instagram.com/p/CL0bY_8hChO/
While Dolores previously had plans to move into David's home after it was fully renovated, the RHONJ star is currently living alone at the Jersey Shore as she renovates her main home.
"I didn't move in with [David] because I stood my ground. So I'm renovating my house and it's uninhabitable so David said, 'The dogs piss and sh*t all over my house. You can't come in.' So I said, 'F*ck you then. I'll go move down the Shore,'" Dolores recalled.
Although Dolores and David aren't living together, David did temporarily live with Frank Catania in 2020 after Frank broke both of his legs.
"He was living at David's house in a hospital bed," Dolores shared.
Moving onto the drama between Teresa and Jackie, which was prompted by false rumors suggesting Evan Goldschneider was unfaithful, Dolores admitted that gyms can be breeding grounds for affairs.
"It is the cocktail for affairs. It's bad," she explained. "[But] I'm not saying that happened."
"I believe she heard something. I don't think Teresa made it up that she heard something. I don't believe it happened… Teresa's not even saying it happened. Teresa's saying somebody said it," Dolores continued.
According to Dolores, she didn't like that Teresa spread the rumor about Evan at his birthday party and felt she should have revealed her source.
"If I was Jackie, I would have gotten to the bottom of this," she noted.
While Dolores then said that Jackie likely wouldn't have done anything differently in terms of her confrontation with Teresa and analogy about Gia Giudice, she confirmed she has a "good" relationship with Jackie
"Jackie's very funny and Jackie's witty. I find her humor to be very funny when she's not upset," Dolores stated.
The Real Housewives of New Jersey Live Viewing – This is also a live viewing thread for the new episode of RHONJ season 11, which airs tonight, March 3, at 9/8c on Bravo. Feel free to comment and chat below as the episode airs.
Photos Credit: Janet Mayer/Michael Simons/Startraksphoto