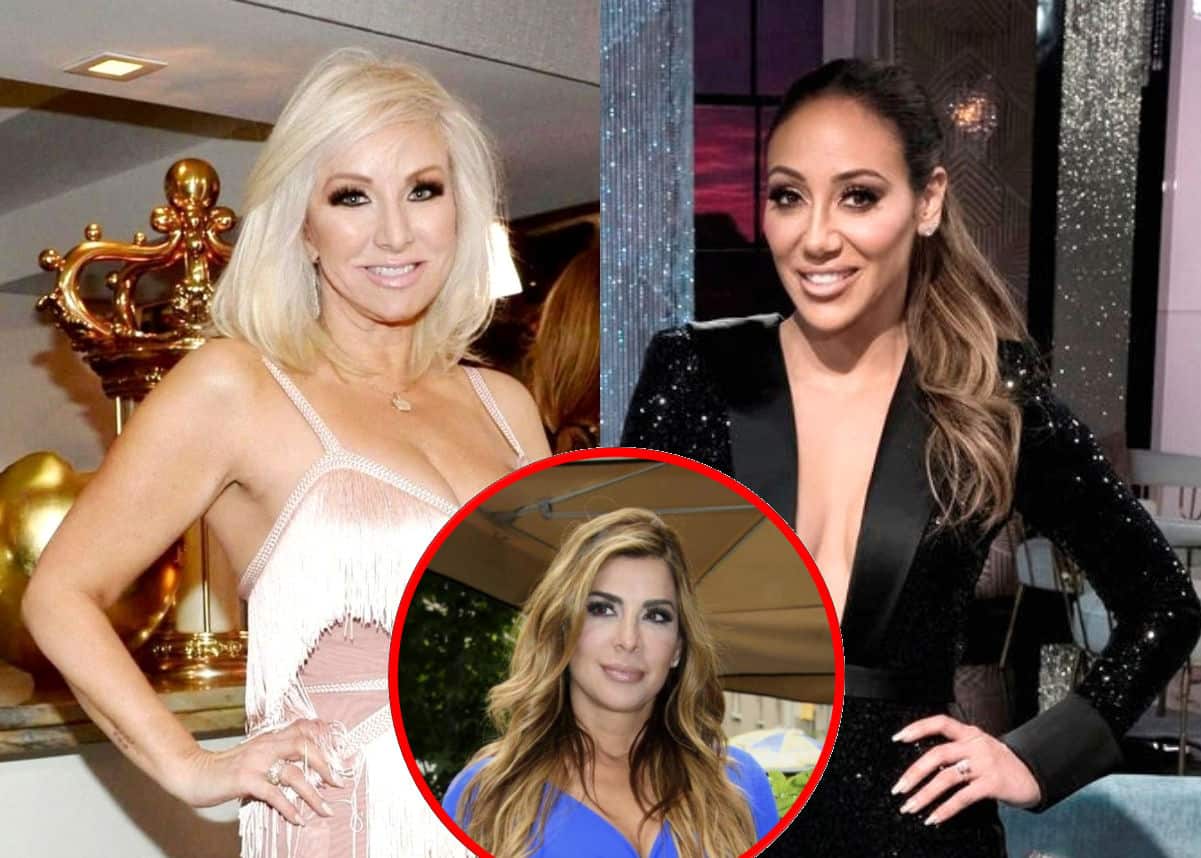 Margaret Josephs discusses Siggy Flicker's "bizarre" behavior and talks storylines and the pressure she and her Real Housewives of New Jersey co-stars feel from the fans. Plus, she says it's "unacceptable" for people to accuse Melissa Gorga of faking her storylines.
Margaret is never one to hold back, and during a recent podcast appearance, she slammed former co-star Siggy for her rude behavior. If fans recall, the two women frequently butted heads while the self-help author was on the show — during seasons seven and eight — even though it was Siggy who introduced Margaret to the group.
Though Siggy left the show in 2017, Margaret made it clear that she's still bothered by her former castmate as she discussed the time Siggy allegedly refused to help her find a glam squad while they were filming in Boca Raton, Florida, which Siggy claimed was "her" town.
"It was actually kind of mean," Margaret told Heather McDonald on the Juicy Scoop podcast. "It was more than mean. It was so bizarre. I could never be that way to anybody. If anybody calls me for anything, any of the girls, even Jennifer [Aydin]… if she calls me for anything, which is very rare, but she has asked me for suggestions for stuff. I text her with any information she ever needs [and] give her anything she would ever ask me for. I'm just not that girl! I could never do that to anybody."
"I was a new Housewife," she continued. "And I'm like, 'Wow! She's a sh*thead! I was like, 'This woman is a complete a**hole.'"
When asked if she's had any run-ins with Siggy since she left the show, Margaret revealed that she had, but she said the relationship expert was too chicken to speak to her.
"It's only happened a few years ago when I went to my hair salon where I get my nails done," she shared. "I was nice [and] I acknowledged her, but she couldn't even acknowledge me… she left. I was in a restaurant [and] she ran out. She's a coward. I could really say horrible things about her. I'd take that psycho Danielle [Staub] back before I'd take her back. And that's saying something."
She added, "[It should be] awkward for [Siggy]; she should leave. If I walk into a room, she will run out the door. And by the way, she should."
Margaret then went on to discuss feeling pressured by the fans to have a new storyline each season. According to her, viewers are harder on the RHONJ cast than other women within the Housewives franchise.
"I think that everybody has something going on at one point in their life and some years are better than others," she explained. "Everybody is busy at different times. I think certain franchises, unfortunately, have more things going on. Like, [Real Housewives of New York City], it's just about them. With us, it's about our whole family. We have some sillier characters on our show that I think, with the fans, there's more pressure. [The fans say], 'What's going on with her? Oh, she's so boring! She has no storyline!' What's your storyline? I mean, I don't even know what that means. This is our real life!"
Nevertheless, though Margaret feels the "pressure," she's not willing to fake anything in order to please the fans.
"I'm not feeling pressure to do something just for TV," she asserted. "That's not me!"
Of course, some fans have accused Margaret's co-star Melissa of faking storylines, including her marital issues with husband Joe Gorga. However, Margaret really takes offense to that notion and insists Melissa and Joe's issues are actually much worse than what has been portrayed on the show.
"I'm gonna tell you right now — and it's not because I'm good friends with her — believe me, they minimized what was going on on-camera. They cut out a lot of it because it was intense, and I'm not kidding. And I think, [fans say] Melissa has a fake storyline because cast members would come after her and say, 'Oh that was fake, that was fake,' which is unacceptable because it wasn't fake. And I think that's gotten out there and people say stupid sh*t like that. This was very real!"
The McBeth Collection CEO went on to say that she was actually "nervous" about the couple fighting in front of the cameras and she even tried to intervene at one point.
"I think [Joe] was really feeling something. I even said to him, 'Are we doing this on camera?' I got nervous and I was like, 'Holy crap!'" she revealed. "And I was like, [telling them to stop], and [Melissa] said, 'I don't give a sh*t.' They really had stuff going on and it played out on camera. And I think that's normal in any marriage, so I don't know why people aren't relating to it. "
Real Housewives of New Jersey Live Viewing – This is also the live viewing thread for tonight's new episode of RHONJ season 11, which airs at 9/8c on Bravo. As the episode airs, please feel free to share your thoughts in the chat below.
Photos Credit: Michael Simon/Marcus Owen/startraksphoto, Charles Sykes/Bravo