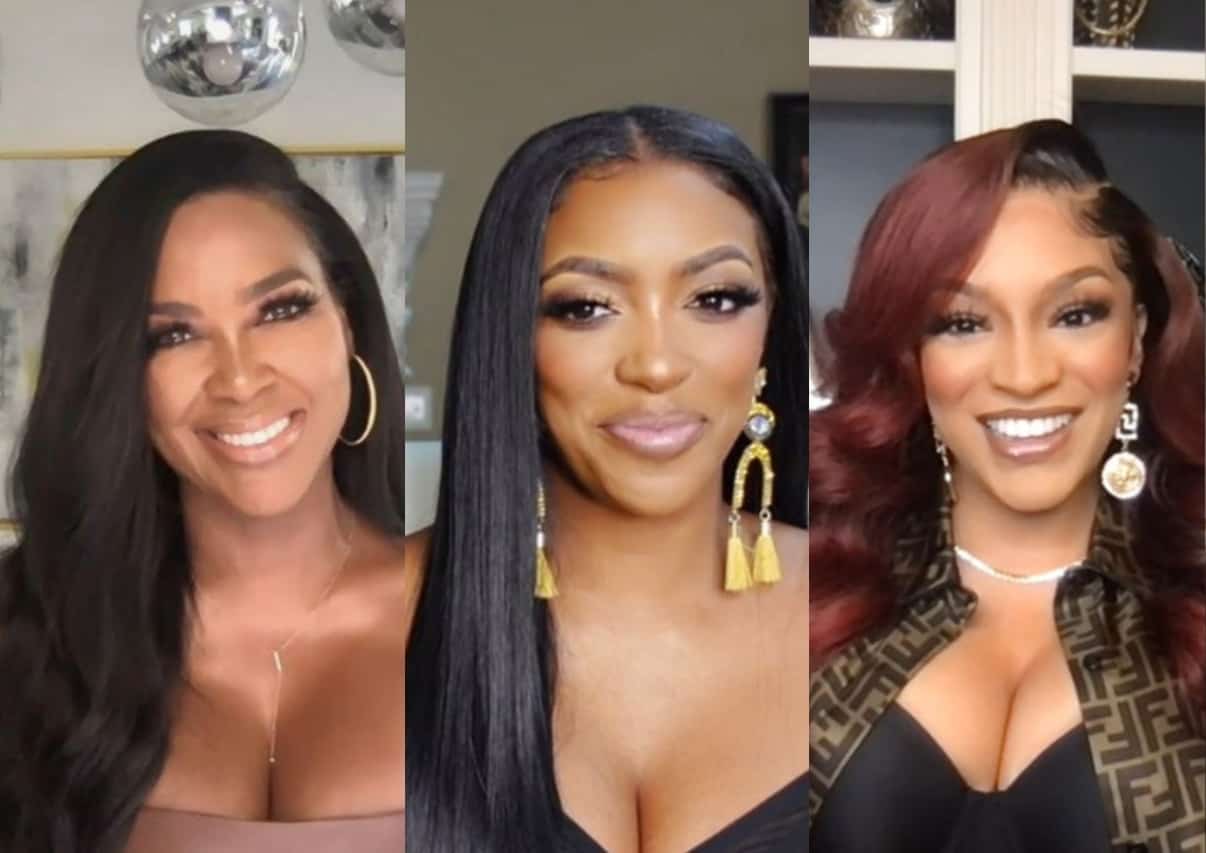 Kenya Moore took aim at Porsha Williams on Twitter during the second installment of the three-part Real Housewives of Atlanta reunion special on Sunday night.
Amid the episode, which featured the cast once again re-hashing what did or didn't go down at Cynthia Bailey's bachelorette party, Kenya shared a couple of tweets regarding Porsha's allegedly ongoing lies before suggesting Drew Sidora wouldn't have been able to purchase her new home if it weren't for the help of her husband Ralph Pittman Jr. and weighing in on her alleged kiss with LaToya Ali.
After seeing that a fan clapped back at a viewer who suggested Kenya and the other women were attempting to shame Porsha for letting loose, even though she was completely single and able to do so at the time, Kenya re-posted their message, along with the hashtag, "facts."
"No one is trying to shame [Porsha] we are just pointing out her continuous lies," the woman's message read. "It's amazing how she doesn't want to speak on what she did but she can speak on what LaToya and Drew was doing that night."
In a second tweet, Kenya agreed with a man who said, "So now Porsha and [Shamea Morton] wants to admit Latoya gave Porsha h–d… but in the [RHOA: After Show] videos they wanted to play dumb."
"Always lying," Kenya replied.
Also, on Twitter, Kenya targeted Drew's financial state.
"Drew needed a husband to buy her first house at 35. Meanwhile I've owned multiple from 26 years old and purchased with CASH. Check those receipts," Kenya tweeted, along with a hashtag for "broke [b-tch] behavior."
According to Kenya, Drew needs to work on her storyline rather than drag out the drama between her and LaToya, who she accused of engaging in an inappropriate relationship with Prophet Lot, who was set to bless her child.
"Drew is so lacking in a storyline that she is reachinnnnnng to make this Prophet Lot thing all about her and her damn baby blessing. Nobody cares!" the fan wrote in one of her re-tweets. "I hate that I'm on Latoya's side on this but between this and that damn wig gift, Drew is looking like the fan now."
As for the other drama between Drew and LaToya, their supposed kiss, Kenya seemingly revealed she believes it's true by sharing a telling re-tweet.
"One thing [Kandi Burruss] doesn't do, is lie on someone. If LaToya and Drew kissed, then THEY KISSED," the message said.
Real Housewives of Atlanta Live Viewing – This is also the live viewing thread for tonight's new episode of RHOA season 13 episode, which airs on Bravo at 8/7c. As the episode airs, share your comments in the chat below.
Photos Credit: Bravo