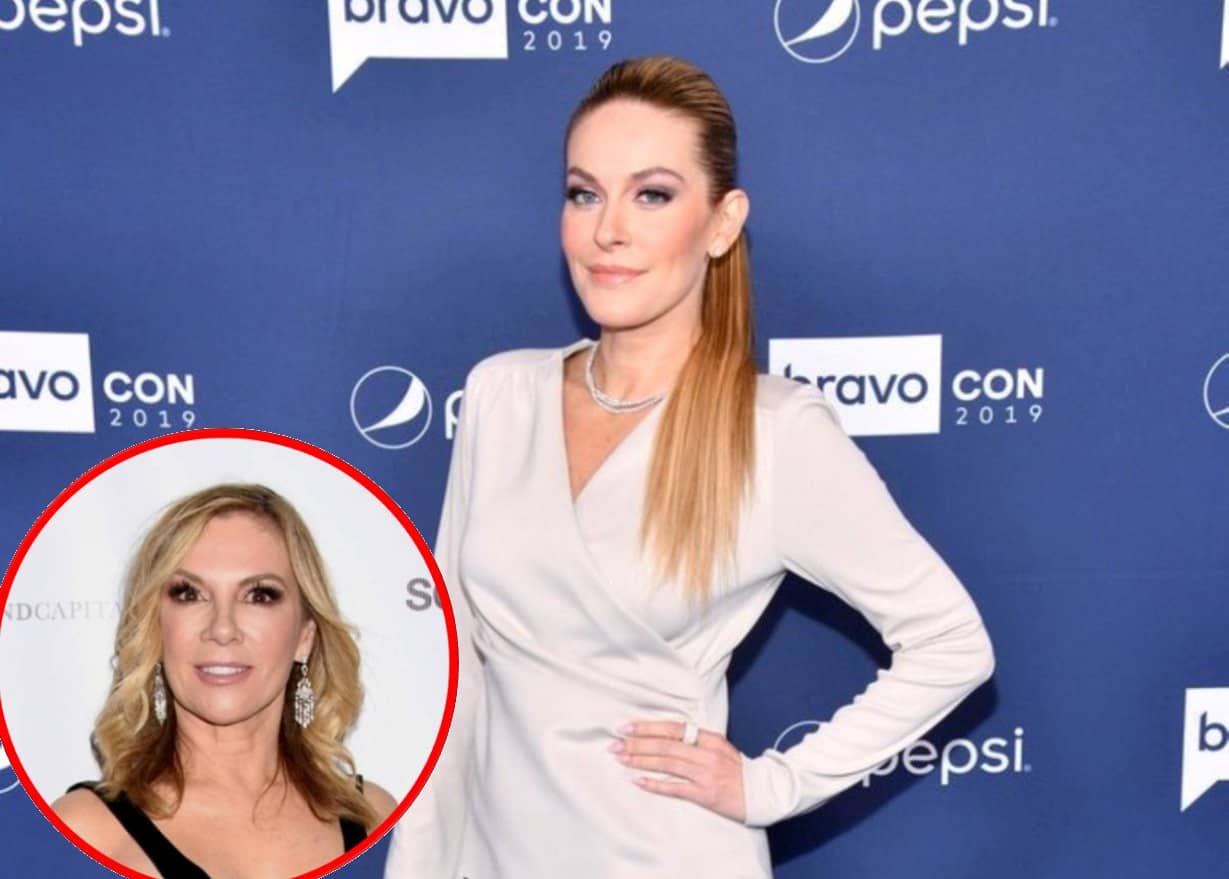 Leah McSweeney is dishing on her first Real Housewives of New York City reunion as well as her complicated relationship with co-star Ramona Singer.
As this season winds down to its last few episodes, the RHONY newbie is looking back on her time on the show and remaining grateful she won over fans with her "float like a butterfly, sting like b–ch" attitude.
"It's been so nice and it's so great," Leah told Entertainment Tonight over video chat. "I can't imagine if, what if everyone hated me and they were like harassing me on social media? I would not be able to deal with that and the pandemic at the same time right now. I just wouldn't be able to. So, God gives you only what you can handle and honestly I would not be able to handle that anyway. It's so nice, it's nice to have support."
Although the 37-year-old missed out on press opportunities and visits to the Watch What Happens Live clubhouse due to the coronavirus pandemic, she was still able to experience an epic reunion, as the ladies and Andy Cohen filmed in-person at a Long Island mansion on August 5.
 "I don't think one person didn't shed a tear," she teased about the taping. "Except Andy — I don't think he shed — I don't think he was crying. Everyone else cried at one point or another. Everyone."
 All season 12 cast members were in attendance, but strict social distancing protocols were in effect, with the women sitting six feet apart in chairs versus the usual couch set up.
 Leah explained how that aspect of the reunion was "a little sad," but perhaps better, considering how "no one can get in each other's faces and scream." There was, however, plenty of fighting that still went down — even before the ladies hit the set.
"The fighting started happening before I even … like, when it was just time for us to talk about what we were wearing, it already started," Leah revealed. "I'm like, this is crazy. Like, is this supposed to be going on right now?"
The Married to the Mob CEO also revealed how it was "great to see Tinsley [Mortimer]," her immediate RHONY buddy who sadly departed mid-season to relocate to Chicago and start a new life with fiancé Scott Kluth. Although Tinsley was maybe a bit mournful to leave her New York life behind, many fans wondered if she was relieved to have left the overwhelming Dorinda Medley drama in the dust, too.
Leah shared how Tinsley was able to "speak her truth" and "get some things off her chest," but she urged viewers to "tune in" to see how the Tinsley and Dorinda conflict played out.
"You got to tune in, you got to watch," she said. "You know, there's a lot of resolution, though, that does come. I definitely left feeling like a lot of things were resolved. Some things weren't, but a lot of things were."
While some things may have gotten resolved between the women, Leah and Ramona's rocky relationship may still be a bit shaky, as Leah wondered "how sincere" the "few apologies" she received at the reunion actually were.
"I didn't even get to say this at the reunion and so I'm going to say it now — maybe I did, I don't know — watching, in hindsight, I actually let Ramona get away with so much," Leah stated. "I mean, albeit, it was my first season. I'm trying to navigate [things], I'm trying to be respectful. I'm trying to also be me. So, I feel like that's never going to happen again."
The newfound reality star then noted Ramona's ability to always sort of find her way back in with people, comparing it to the supernatural powers of the vampires on HBO's fantasy horror drama, True Blood.
"There is something about Ramona, she kinda does that, like … remember in True Blood when the [glamouring], when the vampire, like, looks into [a person's eyes]?" Leah mentioned, referencing the mind-control technique featured on the show. "I feel like Ramona glamours people, I feel like she does glamouring, like, I'm not even kidding. She just does! So, it was hard to stay mad at her."
RHONY Live Viewing – This is also a live viewing thread for tonight's all-new episode of RHONY, which airs at 9/8c on Bravo, so feel free to comment as the episode airs!
Photos Credit: Bravo, Janet Mayer/Startraksphoto.com