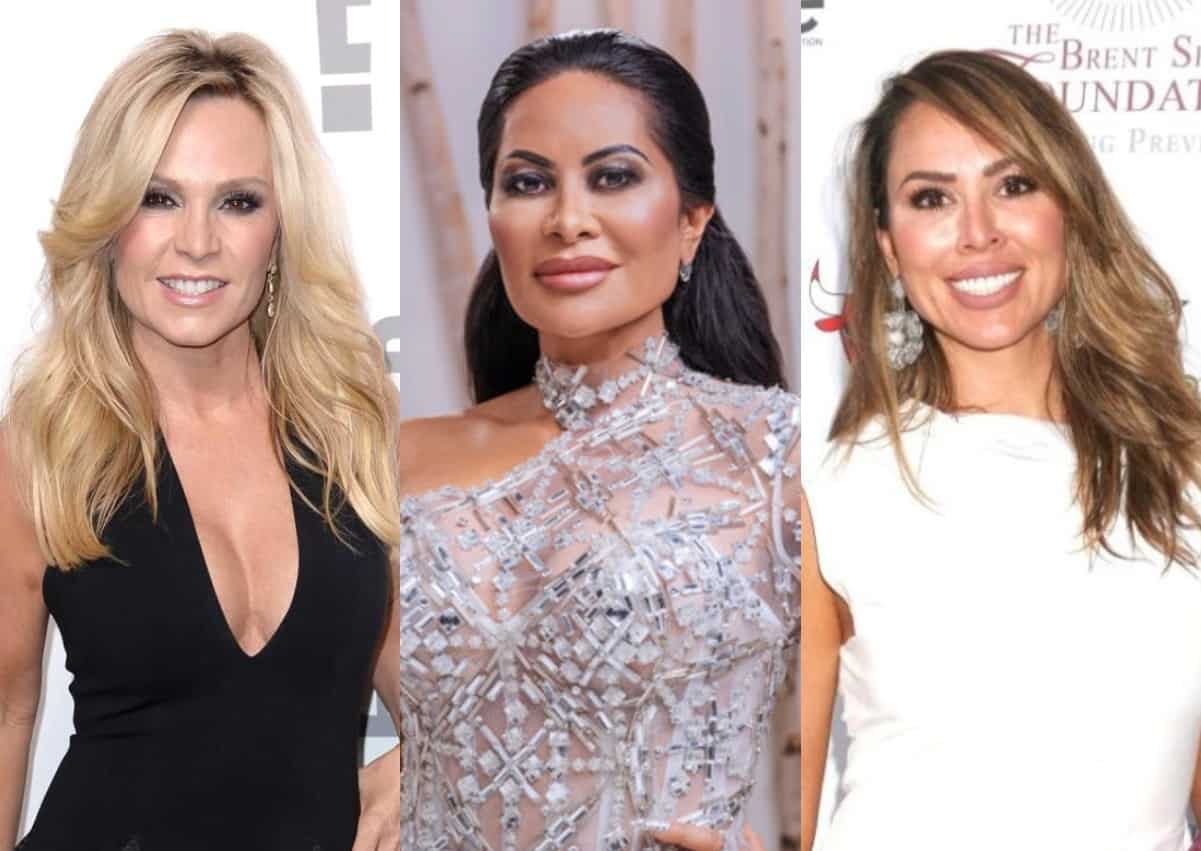 Tamra Judge appeared on Jeff Lewis' SiriusXM radio show over the weekend where she discussed all things Real Housewives of Orange County.
In addition to confirming where she stands with her former on-screen nemesis, Kelly Dodd, and discussing her near-spinoff with Vicki Gunvalson, Tamra revealed Braunwyn Windham-Burke has been spending time with a new woman and explained why she believes Brandi Glanville should still be featured on The Real Housewives of Beverly Hills.
"I haven't talked to [Kelly] since the show [but] I don't hold grudges," Tamra told Jeff on the April 3 episode of Jeff Lewis Live. "Here's the thing about Kelly… Kelly's fun and Kelly has a very sweet side. [But] if you piss her off, watch out. And clearly I've pissed her off."
Although Tamra and Kelly butted heads on RHOC prior to Tamra's January 2020 exit from the series, Tamra admitted Kelly was the "strongest character" of the COVID-challenged 15th season.
"I knew when I found out who the cast was, I was like, 'That's not strong.' Even [Shannon Beador] and I talked about it when we were talking and she's like, 'This is not a strong cast.' I thought, 'Things are just not going to go well,' and they didn't. Kelly's probably the strongest character. You want your housewives messy, right?"
While there have been rumblings of an entire cast overhaul, Tamra said she would be "shocked" if Bravo did such a thing before taking aim at the poor casting of the series.
"They've had such a hard time casting [RHOC]. Look how many people have turned over on that show, the Lydias, the Peggys, and the Emilys, hopefully. No other franchise has done that," she noted.
As for what she believes should happen ahead of RHOC season 16, Tamra suggested Bravo bring back some familiar faces.
"I don't think [viewers] want a whole new cast. I think they just want a good cast. I think back in season 11, it was a good cast. It was me, [Heather Dubrow], Kelly, Shannon, [Meghan King Edmonds]," Tamra recalled. "That was a good mixture. I'm off the hinges sometimes, Kelly's really off the hinges. Then you have Heather, who's very uppity and disgusted by all of us. And then Meghan, who was younger."
While Tamra seemed undecided about whether Braunwyn should be asked back for the new episodes, she confirmed the two of them were friendly before hinting Braunwyn may have moved on from girlfriend Kris.
"She's been hanging out with [Fernanda Rocha], who was on the show. I don't know if she's dating Fernanda. This is a new one," Tamra explained, "[but] they've been hanging out a lot."
That said, Tamra said that when it comes to Braunwyn's marriage to Sean Burke, the mother-of-seven appears to be sticking to her original plan of staying married and continuing to act as a family.
"They're moving together," Tamra shared. "It's too expensive [to live separately]. And they need the help. You can't have five nannies all the time."
As for Vicki, Tamra said that while she does believe her friend makes for good TV, her current relationship is too drama-free to garner her a renewed role.
"I think Vicki's good TV when she's not with [Steve Lodge]. I like Vicki and [Brooks Ayers]. I liked that combination," Tamra admitted of Vicki's ex-boyfriend, who was caught lying about his cancer diagnosis.
Although Tamra and Vicki teamed up with one another on a new show weeks after confirming their exits from RHOC, Tamra told Jeff the potential series is no longer in the works.
"That was right before COVID hit and then nobody wanted it. Let's just be honest. The networks we talked to, they were like, 'We're not doing anything new right now with COVID going on. It's just too difficult.' And I kind of gave up on it," she explained.
Tamra has also seemingly given up on a return to RHOC, telling him, "I haven't heard anything [about season 16]. I have not been contacted."
Also during the interview, Tamra said that despite their past feuds, she believes Brandi should still be a featured cast member on RHOBH.
"I thought she was great on the show," Tamra confessed. "I know she hates my guts. I don't really care. But I thought she was entertaining on the show."
In other Real Housewives news, Tamra recently appeared, via video, on RealiTea With Derek Z, where she addressed the recent arrest of The Real Housewives of Salt Lake City cast member Jen Shah.
"I'd like to say she's innocent until proven guilty, for one. And if you're doing illegal stuff, you're an idiot. And if you're doing illegal stuff and you're on a reality show, you're a special type of idiot," Tamra stated. "Why go reality TV if you're doing criminal acts? You're just asking for it. My advice is, for any future housewives, if you're doing something that's illegal, don't sign up for the Real Housewives."